Fun for Everyone…
Cyclists, Walkers & Teams Wanted
SATURDAY, SEPTEMBER 17, 2016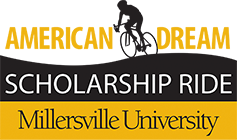 Winter Center 60W. Cottage Ave.
Millersville, PA | Rain or Shine
Registration Fee: $35/per person
MU students are FREE, but must register

Choose when you register:
Cyclists Routes: 5,10, 20, 30 and 60 miles
Walking Routes: 1, 2 and 6.5 miles

Cue Sheets, support vehicles, food/rest stops and lunch at finish.
Registration deadline extended through 9/14/2016 at noon.
Registrants who raise over $100 will receive a free t-shirt.
Download - Walking Map (PDF)
Download - Cue Sheets for Cyclists (PDF)
Day of Event Information
Registration begins at 6:30 a.m.
Ride starts @ 7:30 a.m.
Rain or Shine
Contact Us
Scheduling and Event Management Office
Millersville University | PO Box 1002 | Millersville, PA 17551-0302
 
Weekdays:
8 a.m. - 4:30 p.m. | 717-871-5926 | special.events@millersville.edu