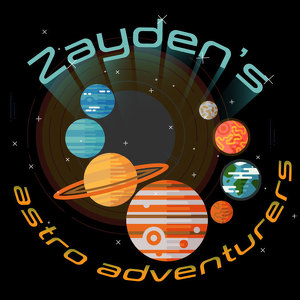 Zayden's Astro Adventurers
Our team fundraising page
Zayden's Astro Adventurers
Hello and welcome adventurers!
We're rallying a team around Zayden with crazy, loving energy this year. As Zayden is facing down his third open heart surgery (tentatively scheduled for October) let's give him fun and positive things to think about and remember. We need your awesome charisma and support to join us in this fun walk!
Note: You may need to read up a little on our solar system before the event, as it's likely Z will be quizzing you.
Team t-shirts will be printed and Nicole will take care of the details, reach out to you for sizing, and coordinate distribution.
Thank you for helping us make memories and Walking for Amazing :)
Christina Larimer

William Larimer

Matteus Bilitz

Zayden Johnson

Leif Dordal

Monte Gerlach

Andre Gerlach
Our Supporters
Meg Hoehn

Zayden! We love you! Reach for the stars!

May 2018

$25.00

Jodi Bilitz

Zayden, you're a hero! Stay strong little buddy. We love you! The Bilitz Family

May 2018

$25.00

Andy, Lindsay, Sophie and Lola Ross

Go Zayden's Astro Adventures! Wish we could walk- the Ross's will be there in spirit!

April 2018

$50.00

Barbara Elmore

I support your strength & love , Nikki . Zayden is one special little guy to have you as his Mom.

March 2018

$35.00

Nicole Johnson

March 2018

$20.00
Andy, Lindsay, Sophie and Lola Ross

Go Zayden's Astro Adventures! Wish we could walk- the Ross's will be there in spirit!

April 2018

$50.00

Barbara Elmore

I support your strength & love , Nikki . Zayden is one special little guy to have you as his Mom.

March 2018

$35.00

Meg Hoehn

Zayden! We love you! Reach for the stars!

May 2018

$25.00

Jodi Bilitz

Zayden, you're a hero! Stay strong little buddy. We love you! The Bilitz Family

May 2018

$25.00

Nicole Johnson

March 2018

$20.00