Event Description
Cracker Box Palace is a no kill farm shelter in Alton, NY.  It is a unique place where farm animals of every kind come to recover from illness, neglect or abuse.
We are kept running on a daily basis by our volunteers, staff and board of directors.  Funding comes from our sponsors, memberships, grants, services & items that are donated, along with events and fundraisers throughout the year.
Farm Frenzy 5K-10K Walk and Run Fundraiser is our last fundraiser before the winter sets in for the Farm.  We hope to raise much needed funds for hay, bedding, feed and medical supplies to assure the animals have enough food and operational support to sustain them throughout the long New York winter.
Event Highlights:
10K/5K Trail Run through our series of woods, fields and meadows on the farm.  Timing provided by Overland Timing Co. 10K starts at 9:30.  5K starts at 10:00
5K Trail Walk along the beautiful 2nd Creek with beautiful scenic views of Sodus Bay. Walk starts at 10:00 am.
Children age 6 and under walk a 1/2 mile trail with one of the farm animals
Picnic and refreshments after the awards ceremony
Farm Photos [$12.00 for a sitting] Have your picture taken with one of our famous farm stars:  Daisy the cow, Beasley the horse, Izzie the goat
Free T-Shirt
Receive a Free T-Shirt if you Register Before October 5th to Walk or Run
Event Leaderboard
1

Total Wrecking & Environmental, LLC.

$750.00

2

The Pike Company

$500.00

4

Insley McEntee Equipment Co., Inc.

$200.00
View Full Leaderboard
Registration Overview
We are asking for your help in reaching our goal of $10,000.  Please become a Walker or Runner Team Sponsor and raise money for the farm. Single Participants who raise over $75.00 and Teams of up to (4) that raise over $300.00  in sponsorship receive a free T-shirt. This value must be realized before 10/6/17 to receive your T-shirt
> Children 6 and under with (1) parent- $35.00
>Juniors and Adults- $35.00 per person
>Prizes and awards for the Teams that raise the most money. 
History of the Farm
Cracker Box Palace is a registered non-profit, no kill farm haven in Alton, NY.  It is a unique place where farm animals of every kind come to recover from illness, neglect or abuse. Some of the residents come here due to struggling family circumstances, or because their owners can no longer give them the care they need. All animals are taught that they still have friends and families are assured that their beloved pets will not become someone's dinner.
Once the animals are given necessary adjustment time and veterinary care, some will become available for new people to love through adoption or a foster care program. Some of our animals will never leave us due to their health, age or dispositions and will live their days out on the farm with love and attention from our small army of volunteers and staff.
We provide an educational place for kids (young and old) to learn about animals, farm life, conservation and responsibility of owning any animal.  We also provide our volunteers with the opportunity to work with an animal of their choice… an animal that many people don't have the resources to keep, like a horse, goat, chicken, rabbit or pig.  
We also serve as the Large Animal Rescue for Wayne County and has an all-volunteer Large Animal Rescue Team.
Help Raise Funds!
Show your support for a great cause by getting involved in our event!
Spirit's Story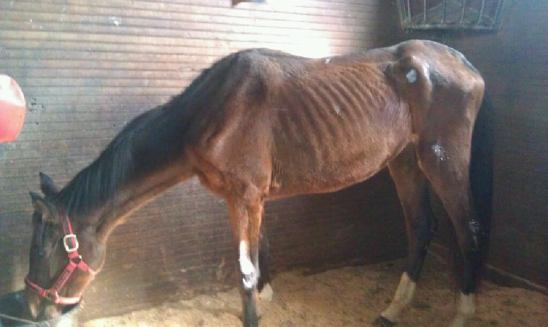 Spirit Upon Arrival at the Farm
Spirit came to us in late 2014 though a Wayne County cruelty investigation. She was a very young filly who was essentially starved and so weak and sick that she could barely stand. The staff and volunteers, so dedicated to saving the animals who come to Cracker Box and unwilling to give up, gave her round-the clock care, often sleeping in the barn with her so they could help her stand every time she fell. She received excellent care from the veterinarians the staff consulted, and from a chiropractor who trained us to help Spirit stand and walk without pain.
Spirit with Old Man
When Spirit was well enough to go into the pastures, another one of the equine residents of Cracker Box, "Old Man", himself having been rescued in a cruelty investigation, became her shepherd and guardian. Today, thanks to all those who worked so hard with her, prayed for her, and donated funds to pay for her care, Spirit is a happy, healthy horse, awaiting the opportunity for professional training to prepare her for a permanent home with an adoptive family.