Congratulations to our 2018 Top Firms!!
Congratulations to our 2018 Top Firms in each category! Click here to see the Top 5 in each category.
301+ Attorneys
Latham & Watkins
251-300 Attorneys
Williams & Connolly
201-250 Attorneys
Kirkland & Ellis
151-200 Attorneys
Pillsbury Winthrop Shaw Pittman
101-150 Attorneys
Orrick, Herrington & Sutcliffe
51-100 Attorneys
Kelley Drye & Warren
1-50 Attorneys
Wilkinson, Walsh + Eskovitz
Legal Aid's Generous Associates Campaign
The Generous Associates Campaign is a fundraising drive run by associates at Washington, D.C. law firms each summer. This year's campaign kicks off on June 1. Although contributors to the campaign include associates, partners, non-lawyers, and the firms themselves, it is a campaign that allows the true generosity of the associates in our legal community to come through in spectacular fashion.
Last year's record-breaking Generous Associates Campaign has raised approximately 30% of Legal Aid's budget! The critical funds raised through this campaign allow Legal Aid to continue to provide free legal services to the neediest members of the D.C. community in the areas of domestic violence/family, housing, public benefits, immigration and consumer law.
Beth Brinkmann, Honorary Chair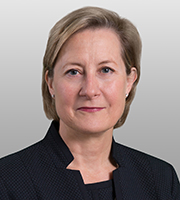 Beth Brinkmann, Partner at Covington & Burling, is the Honorary Chair of the 2018 Generous Associates Campaign. An experienced appellate and Supreme Court litigator, Ms. Brinkmann most recently served as Deputy Assistant Attorney General in the Civil Division at the U.S. Department of Justice. She has argued 24 cases before the Supreme Court of the United States.