JA Bowl-A-Thon
Presented by

Bank of America

to support Junior Achievement of WNY.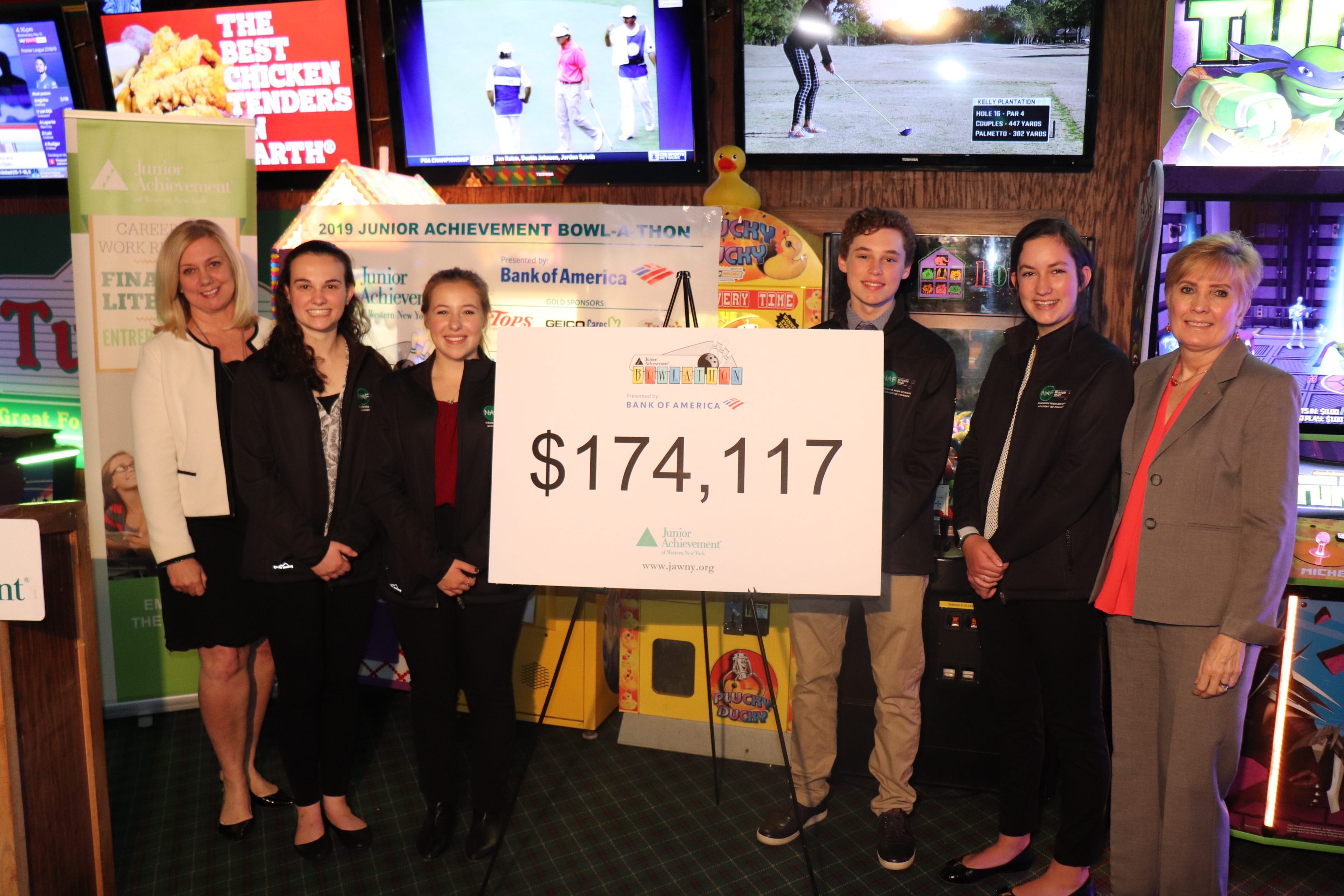 click photo to enlarge
Thanks to the efforts of 1,420 bowlers and 64 WNY Companies, the 2019 JA Bowl-A-Thon raised a record-breaking $174,117! This is the most in the event's 35 year history and we thank all of the donors, bowlers, and outstanding company coordinators that made these results possible for JA students in Western New York! Pictured above are Laura Dolan of Bank of America, JA students from Hamburg High School, along with JA President, Laurie Mahoney.
PLEASE NOTE:
This site is provided as a voluntary tool to help fundraising efforts, the grand total, group (corporate), team and individual totals listed on this site do not include offline donations therefore should not be considered final until JA verifies all funds including cash & check received. Also, gift assist expenses covered by donors cannot be applied toward final bowler fundraising totals. All top fundraising category winners will be announced in May.
Get the Ball Rolling for JA Kids!
The JA Bowl-A-Thon, presented by Bank of America, is not only a fun event; it is also JA's largest annual peer-to-peer fundraiser. Proceeds from the JA Bowl-A-Thon help JA to provide financial literacy, work readiness, and entrepreneurial programs to over 15,700 Western New York students within 161 schools and community sites.
As WNY's largest bowling fundraiser, the JA Bowl-A-Thon has been a corporate moral-boosting event for the past 35 years! During the months leading up to our March events, bowlers create teams, raise funds, all for local JA students! 
If your company is not currently involved with the JA Bowl-A-Thon and you would like more information, please contact Tammy Bixby at tbixby@jawny.org or 716-853-1381 ext.210.
If you are interested in becoming a classroom volunteer, please contact JA at 716-853-1381 ext. 213 or 215, you can also visit www.jawny.org.
Join WNY's Largest Corporate Bowling Fundraiser!
The average US Household has $15,000 in credit card debt. 68% of all Americans do NOT maintain a budget. A culture of financial illiteracy thrives. Imagine inspiring a generation of young people to be financially capable, prepared and job ready! Together, we will inspire a generation!