Registration-Comes with a T-Shirt
$20 per person
$15 for ages 13 and under
FREE for People with DS--and FREE t-shirt
Register as a TEAM CAPTAIN:
Raise $210 and Receive a "Walk Your Way" box of goodies for your celebration with pom poms, bubbles, beaded necklaces, clappers, sunglasses, sidewalk chalk, stickers and balloons!
Raise $500 and receive a Bonus Bag of goodies (with the box) for your celebration with a $25 Visa gift card, DS Awareness--car magnets, tattoos, key chains and a window cling! 
(Must be registered and have raised your $210 or $500 by September 21)
ADSA BUDDY WALK WEEKEND VIDEO!
We'll be posting an awareness celebration video after the Buddy Walk Weekend, and would love to include your team! Send us your photos to contact@ardownsyndrome.org and tag us on your social media posts--@ardownsyndromeassociation #dsawarenessAR
Text to Give
Text ADSA to 50155 to make a donation.
Buddy Walk® History
The Buddy Walk® was developed by the National Down Syndrome Society (NDSS) in 1995 to celebrate Down Syndrome Awareness Month in October and to promote the acceptance and inclusion of people with Down syndrome.  Over 300,000 people walk from coast to coast and around the world each year.  
0
days
0
hours
0
mins
0
secs
Our Newest Participants
Mary Keeton

Mary Bryant

leslie gideon
View All
Buddy Walk Weekend Kicks off Friday Night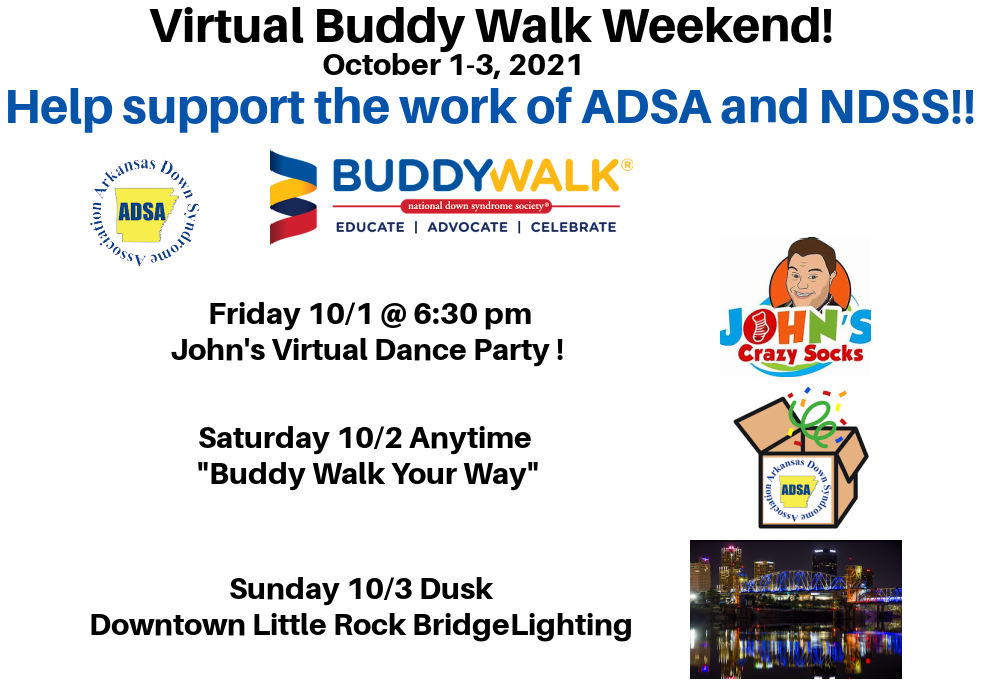 Friday, October 1, 2021  6:30pm.
Join John Cronin of John's Crazy Socks for a Virtual Dance Party!
Saturday, October 2, 2021--anytime!
Buddy "Walk Your Way"
Sunday, October 3, 2021 Dusk
Downtown Little Rock Bridge Lighting
About Arkansas Down Syndrome Association
Arkansas Down Syndrome Association (ADSA) was incorporated in 2004 and is a 501c3 nonprofit organization. ADSA is dedicated to advocating for healthy, inclusive, and productive lives for people with Down syndrome (DS). We serve our DS community by providing free events and services for families across Arkansas—as well as sponsor awareness and educational materials for schools and communities. We are an all-volunteer organization guided by a diverse board of directors made up of medical professionals, members of our local business community and parents of children with DS. Our website, www.ardownsyndrome.org, is the largest and most comprehensive of Arkansas-based websites for families with DS—and includes valuable advocacy, educational, legal, medical, and tax resources. Your support enables ADSA to continue providing local and statewide programs and services, along with advocacy and public awareness, benefiting all individuals with Down syndrome and their families.