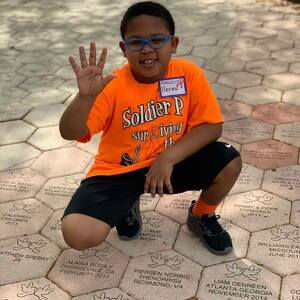 Hello Soldier P Battalion,
Please join Soldier P and TheNorris4 in helping save kids lives by virtually walking with us on May 8th in the 16th Annual ASK 5K & Fun Walk or by making a donation.
We were blessed with so much while Soldier P was in treatment and vowed to continue to bless others!!
0
days
0
hours
0
mins
0
secs
Team Badges
This team hasn't earned any badges yet.
Wramsey Norris

Piersen Norris
Our Supporters
Dana Harris

May 2021

Robert Mealy

May 2021

$104.00

Rhonda Mealy

April 2021

$208.00

Troy Norris

April 2021

$260.00

Juan Shackelford

April 2021

$52.00
Troy Norris

April 2021

$260.00

Bryasan Mealy-Norris

April 2021

$260.00

Rhonda Mealy

April 2021

$208.00

Ellis Norris

April 2021

$208.00

Robert Mealy

May 2021

$104.00