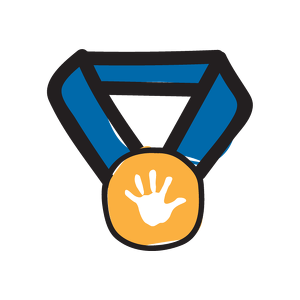 Team EastonBeaston's Fundraising Page
We WON'T let cancer slow us down!
Our WHY
In October 2019 I noticed Easton had Bell's palsy on the left side of his face so I immediately took him to the doctor and they said it was likely due to a virus, gave him a steroid and sent us home. It resolved however just a few short weeks later in early December he started to complain of shoulder and back of his arms pain. We went to his pediatrician, who ran every blood test imaginable, a chiropractor, back to his pediatrician and then an orthopedic doctor. The orthopedic physician wanted a sedated MRI of his spine but was not overly concerned as "he looked healthy" but I knew something was wrong as him complaining of pain was not like him at all. A few days later while I was checking on him at school his teacher told me she noticed his left eye looked like it wasn't focusing, I immediately went to him and he told me he was seeing double. Off to VCU we went where he was admitted and had a sedated MRI of his brain. December 13th 2019 at 1 AM we found out our son had a large mass on the left side of his brain and our world came crashing down. His craniotomy was December 16th 2019 and they were able to do complete a total resection. December 19th he was discharged home and it wasn't until January 2nd 2020 that we learned about his initial pathology. He was initially diagnosed with glioblastoma but I felt, in my gut, that wasn't right. He started the standard of care and we immediately began searching for trials. We talked with 5 hospitals around the US and ultimately decided to go to Children's National Hospital in DC to enroll in a trial where they would perform a second pathology on his tumor tissue and also perform DNA methylation testing. Through this trial, after 6.5 weeks of oral chemo and radiation to his brain, we learned it was not Glioblastoma but rather an embryonal tumor which would require highly intensive inpatient chemotherapy sessions (4) as well as apheresis, port placement and stem cell transplants.  He  finished of inpatient chemo in August and is doing absolutely amazing.  He will be on maintenance chemotherapy for about a year. He still continues to have no deficits, smiling and playing, living his best life. He is our hero and our inspiration to make the most of each day!  He decided his superhero name is EastonBeaston- hence our Team Name!  
0
days
0
hours
0
mins
0
secs
Gavin Welsh

Easton Welsh

Lawson Welsh

Corinna Welsh
Our Supporters
Mary Beth Baker

May 2021

$26.00

Jessica Welsh

May 2021

$28.50

Anonymous

I know it's not much, but every little bit counts!

May 2021

Christy Sandefur

May 2021

$26.00

Anonymous

May 2021
Kendra Anderson

April 2021

$104.00

Miranda Terry-Clark

We love you!!

May 2021

$52.00

Diane Oktay

May 2021

$52.00

Pamela Lamb

May 2021

$52.00

Sydney Law

Baylee I am so proud of you for raising money for such a good cause! Aunt Syd loves you!

May 2021

$52.00