ASK kids just like Brynna, would love a new cuddly friend to hug, comfort them, play with them and maybe even help them be a little braver.
Here's what we need to send every ASK kid a Bearry Big Hug:
$25 donation
That can provide the clinic with snacks for a day.




Encouraging Note
Uplifting words can be just as powerful!
Children with cancer face many life-changing moments, and not all of them need to be negative. Let's provide every child in active treatment like Brynna, a Bearry Big Hug.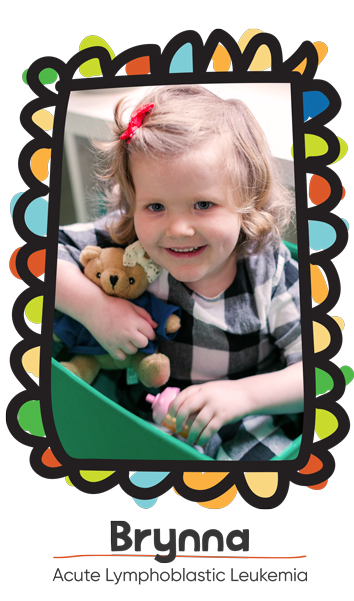 Thank you for giving ASK kid Everett a bear hug!
My Supporters
Anonymous

Sending this bear hug to any ASK kid celebrating a birthday in February! Have a great day!

February 2020

Andrea Neil

Keep fighting, keep laughing, continue to be brave and always remember how much you are loved.

February 2020

$26.00

Anonymous

February 2020

Mark Hand

Stay strong and you will survive !! Big hugs

February 2020

$26.00

Anonymous

You are big, strong and loved. Fight like the superhero you are.

February 2020

$26.00

Nancy Becker

February 2020

Greg Wilson

February 2020

Anonymous

February 2020

Kelly Hodges

You are brave, you are strong, and you are SO loved!

February 2020

$26.00

Tiffany Christopher

Sending a big bearry hug to all the amazing children who are the real superheroes in this world!

February 2020

$26.00
Meghan Hale

February 2020

$175.00

Autumn DeVeaux

Beautiful cancer WARRIOR!!! You are my hero!!!!

February 2020

$104.00

Benjamin Rothrock

BEAST MODE!!!

February 2020

$104.00

Beverly Brown

You are loved!!! Happy Valentine's Day!! XOXO

February 2020

$104.00

Michael (Bonkers) Cox

From your clowns to our FAVORITE kids! We love ya!

February 2020

$104.00

Patricia Hennessy

Hugs and kisses from me to you. Please take care of this bear It likes lots of hugs and kisses from a very wonderful you!!!!!

February 2020

$104.00

Nissan of Richmond

Happy Valentine's Day - Sending love & prayers your way!

February 2020

$104.00

Jarrett Ross

I am with you always. Matthew 28:20

February 2020

$104.00

Tim Cosgrove

Stay strong brave one!

February 2020

$104.00

Tara Kagey

Just wanted to send some happy thoughts your way today, and to tell you that you are AWESOME! Bearry is here to remind you that we're all on your team and sending positive thoughts every single day!

February 2020

$52.00