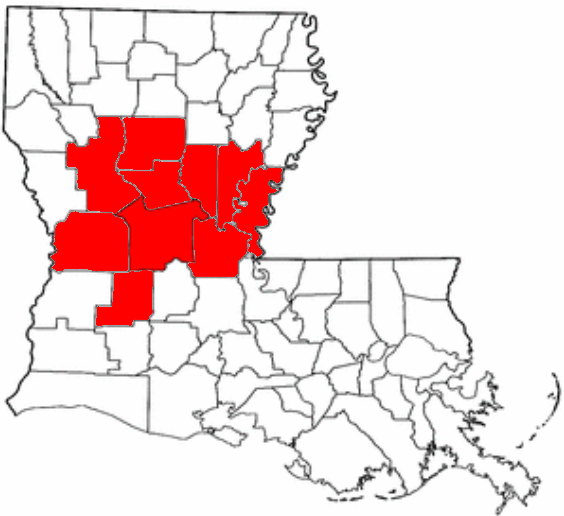 0
days
0
hours
0
mins
0
secs
Donate using the button above or mail a contribution to:
RIP Medical Debt
80 Theodore Fremd Ave.
Rye, NY 10580
Earmark your  donation for this campaign by including a note or by writing "Central Louisiana" in the memo line of a check.
You could put a dent in the over $2.5 million of medical debt available in central Louisiana. Every dollar you give abolishes $100 of debt.
How to Get Involved
Thank you for your interest in abolishing medical debt for you fellow Louisianans!  Please learn more about RIP Medical Debt through the information available on this page. To get involved, you can make a donation or register to become a fundraiser and raise donations through your friends, community, and neighbors using the buttons above or at the bottom of the page (there is no fee to register as a fundraiser). 
End medical debt in central Louisiana
The Problem: Many people in the 10 parishes of Central Louisiana are struggling financially as a result of health issues. These people owe medical debt that has been turned over to collection agencies. Many of these people likely still struggle with health issues. These are our neighbors, friends, coworkers, relatives.
We can help.
Many of us have seen the recent news stories where individuals, churches, and other organizations have raised money to buy and forgive medical debt that is in collections. The stories are heartwarming. The gifts are life-changing. Several of us (Jim Clinton, Sondra Redmon, John Dean, Gary Perkins, Bahia Nightengale, Jennifer Frederick, Larkin Simpson, Allison Tohme, Fredie Manes, Wayne Denley, Patti Manes, Melissa Flurry, Stacey West, and more who we don't know) were intrigued by those stories and contacted RIP to learn more. 
Here's what they told us: We can do the same thing in Central Louisiana. Right now, it would take $25,000 to forgive the $2.5 million in Central Louisiana medical debt that is in collections, for sale and owed by people in or near poverty. 
In Central Louisiana, we're known for helping one another out. When a tornado hits nearby, we bring chainsaws, tarps and rakes. We bring casseroles when we hear of a death or illness. When we know there's a need and think we can help, we're there.
We know there's a need. We can definitely help.
What happens first
We'll all pitch in until we raise $25,000. That's 250 people at $100, 1,000 people at $25 … You get the idea. It's doable.

RIP Medical Debt will buy the debt -- currently for sale and in collections. 

On average, every dollar is leveraged to abolish $100 in medical debt.

Every donation through this page will be spent directly on abolishing debt in the Central Louisiana parishes of Allen, Avoyelles, Catahoula, Concordia, Grant, La Salle, Natchitoches, Rapides, Vernon and Winn.
​​​​​​​What happens next:
A recipient opens a yellow envelope from RIP.
The enclosed letter tells the recipient:
Your debt has been bought by a third party and erased

There are no strings attached

You owe nothing on the debt and face no tax penalty

If we raise $15,000 or more, RIP will even include a line in the letter from us—something about their fellow residents pitching in to erase their debt.

We'll never know who receives the letters unless the recipients reveal that information. We'll simply know that some of our friends, neighbors, co-workers and relatives carry lighter burdens. Can you imagine how they will feel when they read these unexpected letters and receive these unexpected gifts?
"I read my letter over a few times to make sure it was the real thing. Receiving this debt relief renewed my faith that I can get back on track … It's unheard of what RIP does, and it's a game changer in the medical world. It's a game-changer for me." - Reagan, Murchison, TX.
Join the movement to abolish $2.5 million in medical debt in Central Louisiana. Every dollar you contribute is on par with a $100 investment in your town or city. Money will stay in the community instead of being taken by out-of-state debt collectors. On average, $16 can abolish the medical debt of an entire family in Lousiana, allowing them to invest in a home, schooling or retirement. 
Please see the rest of the FAQ below and visit www.ripmedicaldebt.org for more information. 
Facts about Medical Debt
More than $100 billion in unpaid medical debt every year adversely impacts debtor patients, physicians, and hospitals.

6 in 10 of both insured and uninsured people say they have difficulty in paying other bills as a result of medical debt. Over a third were unable to pay for food, heat, or housing because of medical bills.

Nearly two-thirds of U.S. adults under age 65, or 116 million people, had medical bill problems or debt, went without needed care because of cost, were uninsured for a time, or were underinsured—insured but had high out-of-pocket medical expenses or deductibles relative to income.

Medical debt contributes to more than 60% of the bankruptcies in the US. Until satisfied, debt lingers on a person's credit report to negatively impact their ability to buy a home, get a loan, or even gain employment.
Whose unpayable medical bills does RIP forgive?
Individuals who make less than twice the federal poverty level

Individuals with financial hardship - a debt that is 5% or more of their annual income

Individuals who are insolvent (have debts greater than their assets)
Why donate to RIP Medical Debt?
Your dollar goes a long way! On average, $1 abolishes $100 of debt.

100 percent of your donation through this form goes towards abolishing medical debt in central Louisiana.

RIP Medical Debt is a 501c3 nonprofit organization, and our EIN number is 47-1442997. Donations are tax deductible as allowed by law.

There are no tax consequences for those whose medical debts are forgiven. The forgiveness is a gift from a detached and disinterested third party (RIP Medical Debt), so forgiveness of the debt does not count as income for the gift recipient.
RIP Medical Debt's Federal Tax ID: 47-1442997
You can donate or register to fundraise using the buttons below!
Donate using the button above or mail a contribution to:
RIP Medical Debt
80 Theodore Fremd Ave.
Rye, NY 10580
Earmark your donation for this campaign by including a note or by writing "Central Louisiana" in the memo line of a check.