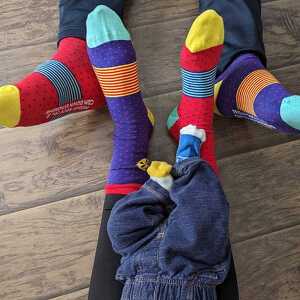 Arthur's Allies
June 17, 2023 12:00am - 11:59pm
Our Team Fundraising Page
Our Story
We found out that our baby boy had a heart condition (AVSD) at Sick Kids in Toronto when Arthur's Mom was 25 weeks pregnant. Days after Arthur's birth, it was also confirmed that he has a diagnosis of Down syndrome. In the few months since then, he has proven to be a fighter; he spent 11 days in the NICU, has traveled to Toronto twice and undergone every test under the sun! He is working hard at gaining weight and will have open heart surgery in the next few months.
Arthur is absolutely perfect and we are so happy he chose us as his parents. He has taught us so much already about seeing the beauty in the unexpected. We are so excited to give him a life filled with inclusivity and opportunity.
As we are navigating this new life, we have appreciated all of the resources and advocacy from the Canadian Down Syndrome Society. Please consider donating in honour of Arthur, or joining our team. Thank you so much for being here!
0
days
0
hours
0
mins
0
secs
Our Supporters
Joanne Martin

June 2023

$50.00

Samantha Renaus

June 2023

$100.00

Luke Baran

June 2023

$65.00

Anonymous

June 2023

$51.97

Erin Puhalski

June 2023

$50.00
Don Baran

May 2023

$259.87

Jeannine Verdenik

April 2023

$259.87

Lorne Clifford

April 2023

$250.00

Nicole Makila

April 2023

$103.95

Samantha Renaus

June 2023

$100.00