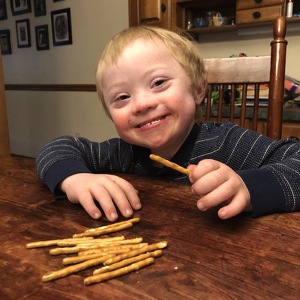 Our Team Fundraising Page
Leg Up For Liam!
Thank you for joining team Leg Up For Liam! Whether it's a friend, a family member, or neighbor down the street, we almost all know someone with Down syndrome. Like us, many of you have been personally touched by the lives of these individuals. We are proud to be part of the DSAW- Fox Cities 11th Annual Down Syndrome Awareness Walk  because it means so much to us and to our family.
Due to the pandemic, this year's walk will look a little different. It's going to be a months-long, virtual party celebrating our loved ones with Down syndrome! Now more than ever, your support of DSAW is crucial. DSAW had to close their offices and suspend in person programs and events for months -- we need YOU to help ensure DSAW's viability during this pandemic and beyond. Please consider supporting our team in any way you can. Each donation, no matter how big or small, will support individuals with Down syndrome.
Donating through this website is simple, fast, and secure. It is also the most efficient way to support our fundraising efforts. You can make your tax-deductible donation online, or if you would prefer, you can send your contribution to the DSAW-Fox Cities Office: 211 E Franklin St. Appleton, WI 54911 (Just be sure to write our team name on the memo line so that we get credit for the donation!) Whatever you can give will help - it all adds up! To sponsor us simply press Donate Now.
To join our team, click Register For This Event.
Many thanks for your support, and PLEASE don't forget to forward this to your entire address book and anyone else who you think might want to donate and register to walk as part of our team.
Bridget Butler

Robert Velpel

Rowen Velpel

Ethan Velpel

Liam Velpel

Meghan Roth
0
days
0
hours
0
mins
0
secs
Our Supporters
Anonymous

September 2020

Meghan Roth

September 2020

Kathryn Lich

September 2020

Laura Bell

September 2020

$21.00

Alyssa Dalton

September 2020

$21.00

Kathy Roth

September 2020

$21.00

Sarah Erickson

Have fun! Go Liam!!

September 2020

$21.00

Amy Behrendt

Much love, and hugs, Liam and family!!!

September 2020

SCI Matching Donation

September 2020

$1,155.75

Rob S

September 2020

Ashley Cowling

September 2020

$21.00

Jeff F

September 2020

Brian B

September 2020

Ruth V

September 2020

Pilar M

September 2020

$20.00

John & Pat Geurts

Great Grandma & Great Grandpa love you Liam!

September 2020

$100.00

Robert Willems

September 2020

$100.00

Elwyn Jones

September 2020

$50.00

Sure Controls Team Cash Donations

September 2020

$180.00

JJ Keller Foundation Matching Donation

September 2020

$1,000.00
SCI Matching Donation

September 2020

$1,155.75

JJ Keller Foundation Matching Donation

September 2020

$1,000.00

Friends & Family Of Liam

September 2020

$1,000.00

Bob Velpel

August 2020

$200.00

Sure Controls Team Cash Donations

September 2020

$180.00

John & Pat Geurts

Great Grandma & Great Grandpa love you Liam!

September 2020

$100.00

Robert Willems

September 2020

$100.00

Lee and Zola Nimmer

July 2020

$100.00

Elwyn Jones

September 2020

$50.00

Lynn Wildenberg

September 2020

$50.00

Mark Pribbenow

Thumbs up, Liam! You are a special young man and are loved by many!

August 2020

$50.00

Debbie Janssen

August 2020

$50.00

Suzette Stewart

Love watching you grow!!!

August 2020

$35.00

Bonnie Piepenburg

September 2020

$25.00

Jeanne Cooke

August 2020

$25.00

Thomas Rolland

August 2020

$25.00

Laura Bell

September 2020

$21.00

Alyssa Dalton

September 2020

$21.00

Kathy Roth

September 2020

$21.00

Sarah Erickson

Have fun! Go Liam!!

September 2020

$21.00