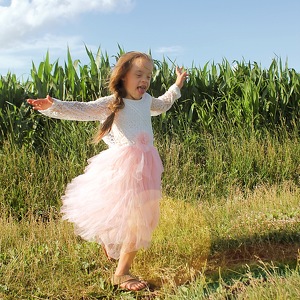 Sophia's Strolling Supporters
Come take a virtual stroll with me!
I'm Back!!!
Hello Everyone -
It's me Sophia and I wanted to give you all a little update about me.  I am getting old, I turned 9 this past year and now I am going into 3rd grade. Crazy how fast time goes!  I still love to dance! I joined a pretty cool dance team this past year; the All Abilities Dance Team.  We had a lot of fun in class. I continue to ride the horses too. That's a lot of fun as well.  This past school was a great year for me as well. I learned so many things and had a great team by me to help me every step of the way. I look forward to see what 3rd grade has for me.  I have been doing a lot of swimming and going for rides in the kabota, now that is how you enjoy summer! My family is doing well and continues to help me with everything I need, especially my sissy; Olivia. She's amazing!
Now, this year we are having a vitual walk so everyone stays safe and healthy. So if you are able join me and my family on September 27th that would be fantastic!  Sign up is free and you have an option to get a pretty cool t-shirt for only $10! 
I want to thank you all for all the continued love and support.  I have pretty amazing friends and family in my life!!
Virtual HUGS TO ALL!!!!
Love - Sophia
Julane Smith

Ken Smith

Adam Smith

Sophia Smith

Olivia smith
0
days
0
hours
0
mins
0
secs
Our Supporters
Evelyn Wall

August 2020

Crystal Wall

August 2020

Ken Smith

July 2020

$50.00

Julane Smith

July 2020

$50.00

East Wisconsin Savings Bank

July 2020
Ken Smith

July 2020

$50.00

Julane Smith

July 2020

$50.00