My Personal Fundraising Page
Why Am I Walking?
The reason I'm walking in the Walk to End Elder Isolation is multifold.
I LOVE to walk. It's been my favorite form of exercise for years. It's energizing and helps to keep me healthy. When I walk I clear my head, get creative ideas, breathe, and enjoy connecting to my surroundings – the trees, flowers, fresh air, sky, birds, bunnies, turkeys, deer and other wildlife. It makes me feel grateful to be alive.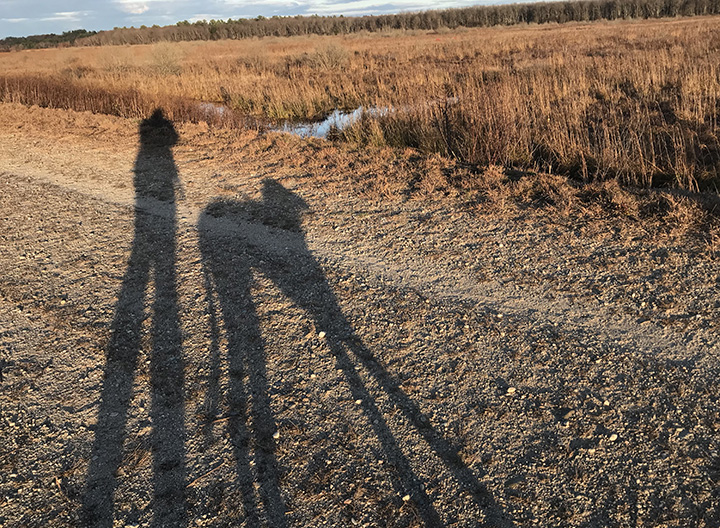 I LOVE to walk with my friends and connect while we walk, talk and catch up. Our dogs love walking with each other, too. They don't seem to fuss about each other too much, they just love to walk and enjoy just being out. 
I also LOVE feeling connected to my neighbors and my neighborhood. I may not know all of their names, but its always great to exchange a friendly "hello" or get a wave as a car passes by on the backroads. 
I participate in the Walk to End Elder Isolation because I don't take any of this for granted, and that I feel incredibly lucky and blessed to physically be able to walk, to have friends (and dogs) to connect with and a beautiful neighborhood to walk in. I recognize that is not the case for everyone.
Though my parents are gone now, I know that social connection was incredibly important to them. A few years after my Mom passed, Dad moved to assisted living in South Boston and thrived for many years. He took part in most of the social activities that thankfully filled the gaps of time when my my sister and I could not be there. His favorite stories to share were those of his parish visitors, musical entertainment or the times when students from the local schools came for Mass and spent time with the residents. I know in my heart that he would not have lived to 91 if he didn't have all of those people and activities to keep him engaged.
I believe that FriendshipWorks helps to fill that gap with older adults in Greater Boston and creates connection for those who may otherwise feel isolated. And I would love to see this work continue far into the future. 
0
days
0
hours
0
mins
0
secs
My Supporters
Eva Kearney

June 2023

$50.00

Kayla and Clark Rumsey

June 2023

$53.00

Anonymous

May 2023

Reiko Beach

May 2023

$50.00

Phyllis Munstis

May 2023

$25.00
Laura Willis

February 2023

$106.00

Kayla and Clark Rumsey

June 2023

$53.00

Alyssa Dave Duncan Cameron Cara O'Malley

May 2023

$53.00

Nancy Richter

April 2023

$53.00

Eva Kearney

June 2023

$50.00