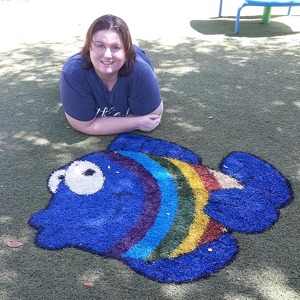 Our Team Fundraising Page
ESF and all the people that make up the ESF family are very near and dear to our hearts. This organization not only brings awareness to Epilepsy but assists families with what we know 1st hand can be a very devastating diagnosis. Most of you already know Chrissy's/Our journey but here is a condensed version for those that don't. In her later teens, right when Chrissy was preparing to venture out into the world multiple odd events occurred. I would find her blacked out or just coming to in multiple areas of our home at random times. During what was a very long years' time we saw multiple specialists (several of which were neurologist, a cardiologist, psychologist, psychiatrist, counselors etc.) the later few was because we were told it was "all in her head". That there was nothing medically wrong. No parent should ever have to see their child, no matter what their age, have a grand mal seizure right before their eyes, but I was grateful for the location. We were in the arms of our loving Jacaranda Manor family. All came to aide, and she was soon taken away by ambulance. That lead us to Dr Passaro (her HERO) who eventually diagnosed Chrissy with Complex partial epilepsy. For Chrissy, at least at first, she was happy to know. I remember her saying with tear filled eyes. Mom, I am not crazy. All the others were wrong when they said that I do not have anything medically wrong with me, but they were right. It was all in my head. LOL I put lol because you can't always cry about things, you have to find the humor in order to get through this crazy life. Sometime later Chrissy found ESF through the internet as she was looking for a support group. She was older than most in the Young Adults Group, but they still let her/us join and she became a mentor to many in the group. As close as the "kids" got to each other, We the parents also grew close. The "kids" as we will still call them found others that knew what they were going through, and we the parents found the same thing.  A way to network and help each other through the good and bad times. Chrissy was not one of the fortunate whom can find the right "cocktail" of meds to control her seizures. Her journey has included more meds that I can remember to include research drugs, test not only here, but in Alabama and once all the way to the University of Michigan. She had had a VNS implanted and removed. Brain surgeries, she has had quit a few. 2010 ish there was 3. In 2017 we were hopeful for a surgery that would end or lesson her seizures (was having 20-30 a month). Although Chrissy has no memory of back then, it was a time when those of us who love her dearly will never forget. 2 massive brain bleeds which was neurologically devastating. She had to have a trauma sized portion of her skull removed to allow for the brain swelling, She was intubated on a vent soon had a trach, feeding tube, DVTs, pneumonia and so much more. When I say she is a miracle right here on this earth those are not just my words, her Drs would tell you the same. She fought every day, and I/we cannot thank you all enough for all of your love and prayers that continue to this day. I know it doesn't seem like it, but that was a condensed version of what this Epilepsy Warrior has had to overcome. What we have had to overcome. Notice all the We and Our in this long paragraph, that is because Epilepsy doesn't just effect those with the diagnosis it affects all those who love those with the diagnosis. That being said, it is just that, a diagnosis. It does not define that person and we have seen so many people with Epilepsy achieve great things.
Please help us support those with Epilepsy. If you are not able to attend, please still donate. Every penny helps! 
Rachel Wright

$21.00

Emma Corbett

$20.00
0
days
0
hours
0
mins
0
secs
Our Supporters
Larry & Sheryl Roberts

March 2023

$50.00

Joyce Musgrove

March 2023

$25.00

Cornerstone Community Church Family

February 2023

$110.00

Emma Corbett

February 2023

$22.00

Anonymous

February 2023
Cornerstone Community Church Family

February 2023

$110.00

Larry & Sheryl Roberts

March 2023

$50.00

Joyce Musgrove

March 2023

$25.00

Emma Corbett

February 2023

$22.00