Welcome
Thank you for visiting our event page. We are so excited for our 13th Annual Down Syndrome Awareness Walk at Riverside Park in Neenah on Saturday, October 1st!  
With the support of our generous friends like you, we were able to provide over 850 hours of direct services, had 40 participants attend in person group programs, hosted a 321 Fun Summer Camp, and so much MORE in 2021! WOW - thank you! We rely on the incredible support of our community to make these services happen. The majority of our programs and events are fully funded by this annual Awareness Walk, and we need YOU to help make them happen. Join us!
Click here to register for this event.
Event Schedule
10:30 am - 12:30 pm Event check-in and on-site registration
10:30 am - 2:00 pm Bag lunches available (hot dogs, chips, cookie, and water)
Fun activities for all ages!! (free for all registered walkers)
Raffles, DJ, Giant Slide, Rock Climbing Wall, Trampoline Bungee Jumping, Petting Zoo, and more!
2:00 pm - 1 mile non-competetive walk along Lake Winnebago
2:30 pm - Raffle winners announced and posted, must be present for bucket raffle, need not be present for larger ticket item drawings 
General Information
COVID-19 Precautions
Per CDC guidance, face masks are optional at outdoor events. Guests are welcome to wear face masks within their own comfort level.

If you have symptoms of COVID-19 (fever, headache, cough, nausea, etc.), have come into contact with someone who tested positive for COVID-19, or are awaiting your own COVID-19 test results, please keep everyone safe by staying home.
Event Attractions
Petting Zoo
Food trucks
Balloon Artist
Rock Wall
Bungee Jumper
Bounce Slide
Registration Information
Pre-register online until 10pm CST on Friday, September 16th!
Pre-registration is strongly encouraged!
Registration includes awareness walk, activities, t-shirt. Bag lunches will be provided for an additional fee. 
| | |
| --- | --- |
| Walker + t-shirt (no lunch) | $8  |
| Walker + t-shirt + lunch | $10 |
| Walker + XXL or XXXL t-shirt (no lunch) | $10 |
| Walker + XXL or XXXL t-shirt + Lunch | $12 |
| *Virtual Walk Participant (includes t-shirt shipped to your house) | $10 |
*Virtual Walker Registration
If you are unable to attend this event in person or would feel more comfortable celebrating from afar, register as a virtual walker! Registration includes a t-shirt shipped directly to the address you provide (USA only). Virtual Walkers must register by August 31 at 11:59pm.
By registering for this event, you agree to DSAW's Terms & Conditions.
Event T-shirts
Early T-shirt Pick-Up Info: T-shirts will be available for early pickup on Sunday, September 18th (4:30-6:30pm) and Tuesday, September 20th (5:30-7:30pm) for those who wish to pick-up their shirts before the day of the walk. Individuals must register by August 31st in order to have their shirts available for early pickup. 
Day Of: T-shirts will also be available to be picked up at the walk on October 1. T-shirt tables will be located near registration. We cannot guarantee your size will be available the day of the walk, please register early to ensure you receive your size.
Text Giving
Your friends and family are able to make a donation via text! Text fcwalk22 to 50155 to make a donation.

If you would like to set up text giving that goes directly to your participant or team fundraising page, head to your participant profile, click on the "Text Giving" tab, and create your own keyword. Donors will then need to text fcwalk22, enter a space, and enter your unique keyword to have the donation go right to your own thermometer!
Meet Our 2022 Walk Ambassador: Lilya
Lilya Zoromski is a sweet and friendly girl who attends Kimberly High School.  Lilya is the middle child of 5, with two sisters and two brothers.  She was adopted when she was almost 6 years old, coming to Wisconsin from an orphanage in Ukraine.  She loves yoga, music, dancing, and taking karate classes.  Lilya participates in several DSAW classes in person and online. 
Fundraising Incentives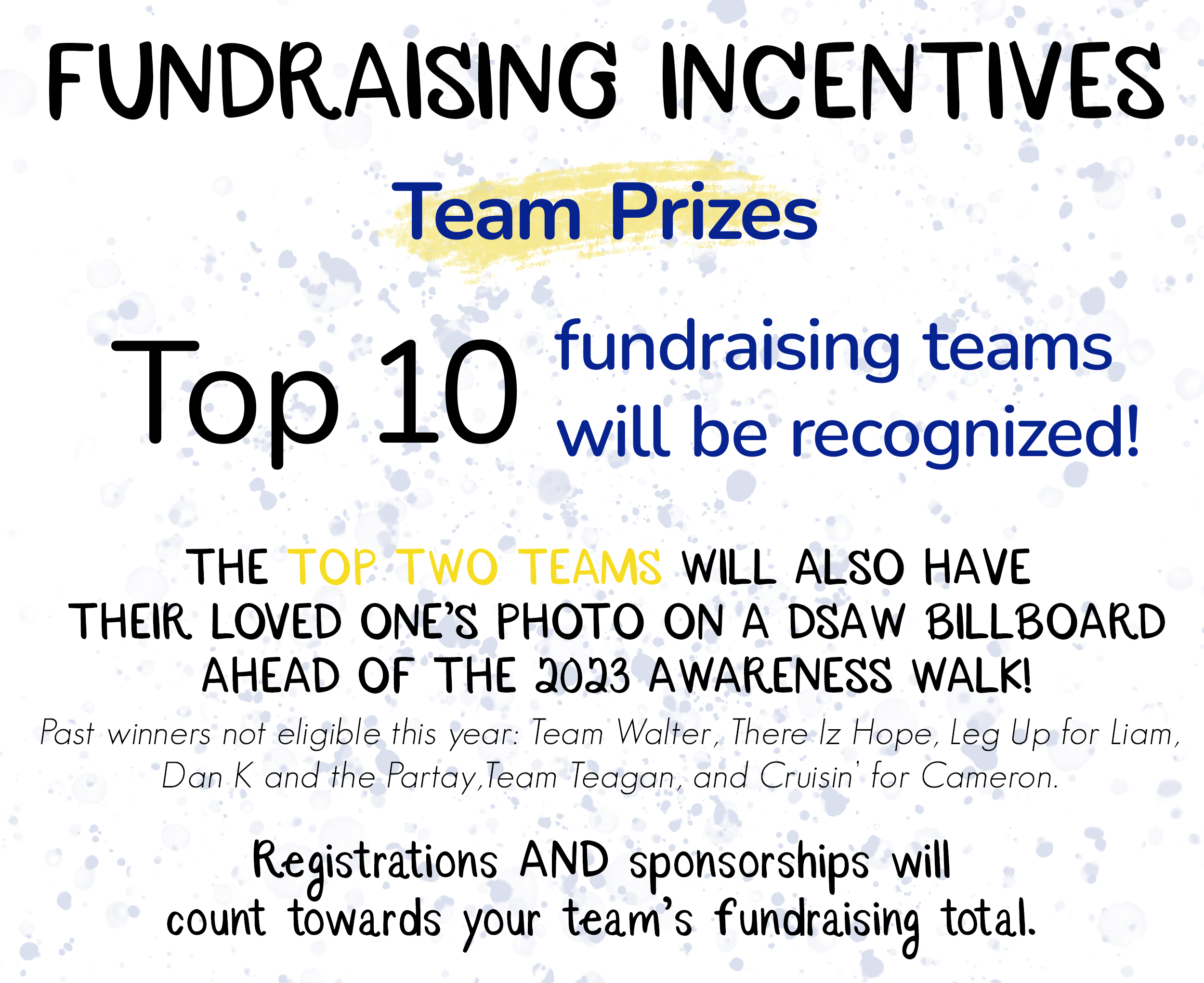 The cut-off for donations that qualify for the Top Fundraising Prizes is 10 PM on Friday, September 30th! 
All cash and check donations must arrive at the DSAW office by noon on Friday, September 30 to qualify.
$1,000 Team Signs
Any team that raises at least $1,000 should contact walk@dsawfoxcities.org to receive a personalized yard sign with your team name and an image of your individual with Down syndrome. The deadline to send in your image and reach your goal is September 15th.
Donor Leaderboard
4

Children's Dental Health Center, S.C.

$1,000.00

5

Winch Advisory Services

$1,000.00

9

N&M Transfer Co. Inc.

$1,000.00

10

Bucky,Amie,Ty and Clay Laabs

$1,000.00

11

Valley Custom Fence

$1,000.00

13

Jim & Mary Jo Pfeiffer

$1,000.00

14

Carol Phillippi

$1,000.00

15

Greg Beilfuss Trucking, LLC

$1,000.00

16

David Van Lieshout

$1,000.00

17

TERRI HANDRICH

$1,000.00

19

Reece's Rainbow

$1,000.00

20

The Guardian Life Insurance

$750.00
View Full Leaderboard
About DSAW-Fox Cities
The vision of the Down Syndrome Association of Wisconsin - Fox Cities (DSAW-FC) is that we all understand the value of those with Down syndrome in our lives and our communities. We continually strive for full acceptance, full access, full life and full potential. Check out our website.
We are a chapter of:  The Down Syndrome Association of Wisconsin
The Down Syndrome Association of Wisconsin's mission is to provide support to Wisconsin families and individuals with Down syndrome and related disabilities through awareness, education, information, programs, services, and the exchange of ideas and experiences. We promote the value of those with Down syndrome in our lives and our communities. We continually strive toward full acceptance, full access, full potential and a full life to make Wisconsin the best supported state for people with Down syndrome and their loved ones. Visit our website to learn more.