News Alert!
Thank you all for your generous donations. We had a great Celebration Event last night, but we are so close to goal that we are keeping the drive alive! Please help us reach our $50,000 goal by giving and sharing our site! THANK YOU all for your support.
---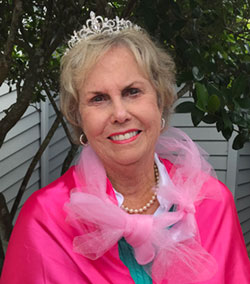 Thanks to Fran and the Hall Halliburton Foundation, the first $10,000 was matched dollar-for-dollar!
Captain Underwear, Princess Pantaloons and DESC need your help!
Help us raise $50,000 to provide clean socks and underwear.
Underwear and socks are things most of us take for granted not realizing what a luxury they are to those in need. The Downtown Ecumenical Services Council, or just simply DESC, provides underwear and socks as one part of our emergency services. Captain Underwear and Princess Pantaloons have united to fight for the dignity of struggling families during the Great Underwear Challenge.
Thanks to super partners, we get socks and underwear at a fraction of the store costs. With your awesome support, we can give clean socks and underwear to every person in need who comes through our door.
Please register as a fundraising team or support one of the wonderful teams below. Then join the Celebration Event on April 24 from 6 - 8 p.m. at the Mellow Mushroom in Avondale.
If you would like to learn more about DESC, you can do so at www.descjax.org.
0
days
0
hours
0
mins
0
secs
Anonymous

May 2018

Anonymous

May 2018

John Meux

May 2018

$104.95

Michael Howland

May 2018

$75.00

Anonymous

May 2018

Anne Nasrallah

May 2018

$100.00

Nancy Dean

May 2018

$21.00

George A. Barnes

May 2018

$157.42

Marchie Surface

May 2018

$5.00

Anonymous

May 2018
Jo and Ed Pratt-Dannals

April 2018

$1,000.00

Rolly & Hud Berrey

April 2018

$750.00

Rogers Towers

April 2018

$524.75

Alison Zabik

April 2018

$524.75

Traditions Realty

April 2018

$524.75

Carey and Ruth Ann Hepler

April 2018

$500.00

Anonymous

April 2018

$500.00

Michael Stokes

April 2018

$500.00

Joan Haskell

April 2018

$500.00

Elizabeth Meux

April 2018

$314.85