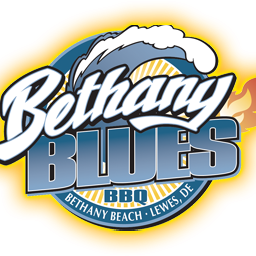 September is National Childhood Cancer Awareness Month!
Here's what we are doing... ....
For the entire month of September, Bethany Blues will be featuring a "Round up Campaign" on all on-line ordering!  When you go to check out for any on-line order, you can choose to "round up your check" and those few extra cents will go straight to Nemours!  So, all you need to do is order our delicius carryout online, at either of location, and say YES to round up your check!  Those pennies will add up fast and make a BIG difference in our fundraising campaign!  
The Lewes location is hosting it's 11th annual Bluesapalooza Event on Tuesday, September 20th where you will find food and drink speicals, live music by Electric Velvet, Raffles, Autciotn items (including Eagles Tickets)and tons of games and good times!  All proceeds from the event will be donated to Nemours A.I DuPont Children's hospital!  
You can also donate directly through our fundraising page, website, facebook or dine-in, by scanning our new QR code that is linked to our page!
We believe every child deserves the chance of a healthy future.   Your gift helps Nemours provide unsurpassed care, pioneer new treatments and find life-saving cures for children.
Because of you, families can take comfort in the promise of a healthier future.
Please make a donation today to make a difference in children's lives now—and for lifetimes to come.
Our Supporters
G Gerald & Linda Perry

2 weeks ago

$50.00

Mary Ellen & Kenny McCullough

4 weeks ago

$50.00

Theresa Lynch

5 weeks ago

$25.00

Peter Roenke

5 weeks ago

$50.00

Zac Warner

5 weeks ago
G Gerald & Linda Perry

2 weeks ago

$50.00

Mary Ellen & Kenny McCullough

4 weeks ago

$50.00

Peter Roenke

5 weeks ago

$50.00

Grant & Peggy Moy

Salli Spoon

September 2021

$50.00

Theresa Lynch

5 weeks ago

$25.00