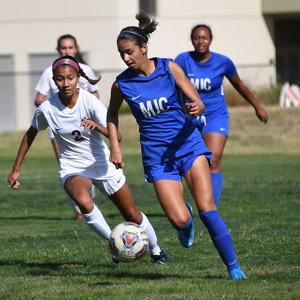 Dear Friend of MJC Athletics,
Welcome and thank you for taking a brief moment to consider joining the MJC Athletics "CENTURY CLUB".  Whether you're a longtime alumni or a recent fan of MJC Athletics, you are an invaluable member of the MJC Pirate Athletic community and we thank you for your past and continued support of MJC Athletics.   
Each year, nearly 500 student-athletes at MJC compete in 21 intercollegiate sports, and we are constantly seeking ways to improve their overall experience.  Being the largest athletic program in Northern California, recruiting the most promising and talented local students becomes increasingly competitive.  We must utilize our creativity and maximize our resources to assist our student-athletes in the classroom, on the playing fields, and within the broader community. 
Your involvement as Century Club member will assist our varsity intercollegiate sports programs. As a member, you will provide that extra lift needed for student-athletes that will impact them well beyond MJC and hopefully to continue on to 4-year universities and productive careers. In addition you will receive an All-Sports Pass for the 2021-22 season.  We are proud of and inspired by our dynamic group of dedicated coaches and student athletes who represent the Pirates. 
Your support of our student-athletes through the MJC ATHLETICS "CENTURY CLUB" will enhance and upgrade our athletic teams by helping in many ways that are most meaningful for each sports' needs.
You can always find the latest happenings, upcoming games and athletics events by checking our website http://athletics.mjc.edu/landing/index
MJC Athletics Century Club Levels:
o   FRIEND:  Any amount (fill in the blank)
o   CENTURY:  $100
o   BRONZE: $500
o   SILVER: $1,000
o   GOLD: $5,000

Thanks again for considering this once in 100 years opportunity and Go Pirates!
Supporters
Dan Mattos

November 2022

$100.00

Anonymous

I was a member of the track team for two years and was a state scholar athlete finalist. While I was not a MJC athletic scholarship recipient when I was a student, I want my donation to go toward an individual who is balancing, sports, and life.

August 2022

Modesto Junk Company

Jerry Streeter Ballpark Fund

August 2022

$500.00

Ronald Martella

Jerry Streeter Ballpark Fund

August 2022

$300.00

Gloria Nielsen

Jerry Streeter Ballpark Fund

August 2022

$200.00
Modesto Junk Company

Jerry Streeter Ballpark Fund

August 2022

$500.00

Ronald Martella

Jerry Streeter Ballpark Fund

August 2022

$300.00

Gloria Nielsen

Jerry Streeter Ballpark Fund

August 2022

$200.00

Dana Hanlon

Jerry Streeter Ballpark Fund

August 2022

$200.00

Robert and Donna Hoegh

Jerry Streeter Ballpark Fund

August 2022

$200.00