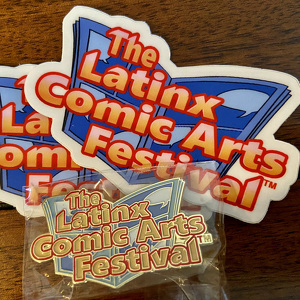 Help support the Latinx Comic Arts Festival's return in 2022!   
The Latinx Comic Arts Festival (LCAF) is the California Central Valley's ONLY celebration of Latino comic arts creators and friends, highlighting Latino cartoonists, writers, animators, artists, and comics educators. The Festival is a huge student and community-centered event that brings 60+ incredibly talented creators to the MJC campus for two full days of interactive tabling, panels, and workshops. Also featuring an art exhibit and lowriders!  
Founded by MJC's Professor of English and Ethnic Studies, Dr. Theresa Rojas, LCAF offers students and our community the unique opportunity to spend time with gifted creators who bring comics and animation to life. This is a FREE, family-friendly, all ages community event.  
Your support will help us bring the LCAF back in 2022 and provide free comics giveaways to our students!  For all recorded programming, visit: 
http://www.youtube.com/c/TheLatinxComicArtsFestival
Questions? Contact Dr. Rojas: rojast@yosemite.edu.  
Supporters
Barbra Dillon

On behalf of the creators of the graphic medicine comic book series, RIPPLE EFFECTS

March 2022

$100.00

Jason Wohlstadter

Thanks for the great work, Theresa!

February 2022

$50.00

Johanna Isaacson

Thanks for your hard work Theresa. Love this event!

December 2021

Andrew Kranzman

Thank you, Dr. Rojas. Your labor of love is appreciated by many in our community.

December 2021

Dejeune Shelton

November 2021

$20.00
Stephen Redd

October 2021

$500.00

Jillian Daly

October 2021

$250.00

Barbra Dillon

On behalf of the creators of the graphic medicine comic book series, RIPPLE EFFECTS

March 2022

$100.00

Dana Walrath

Thanks for creating this space!! Happy to support.

October 2021

$100.00

Anonymous

October 2021

$100.00