About the Campaign
What inspired the Red Tie?
The Red Tie was introduced as the symbol for the bleeding disorders community in 2016, when NHF and the U.S. Department of Health and Human Services worked together to designate March as an official U.S. health observance month — Bleeding Disorders Awareness Month. The Red Tie reflects the fact the blood ties — embodied in the color red and the tie — are what bind the community together.
What is the Red Tie Campaign?
NHF's Red Tie Campaign is an annual campaign that aims to advance the fight against inheritable bleeding disorders by raising funds for research, education and advocacy initiatives.
When is Bleeding Disorders Awareness Month?
March is Bleeding Disorders Awareness Month. NHF successfully advocated to the US Department of Health and Human Services to have the designation officially recognized.
What are inheritable bleeding disorders?
Bleeding disorders are genetic disorders that affect the ability of a person's blood to clot properly, which can lead to extended bleeding after injury, surgery, trauma or menstruation.
Hemophilia A and B affect 20,000 people in the US. The primary symptom is uncontrolled, often spontaneous bleeding in different areas of the body. Internal bleeding, which is common around joints, can result in pain and swelling and — if left untreated ­— can cause permanent damage.
von Willebrand disease (VWD) is caused by a deficient or defective blood protein: von Willebrand factor. The most common bleeding disorder, it is estimated to affect up to 1% of the US population. Symptoms include frequent nosebleeds, easy bruising and excessive bleeding following surgery, heavy or abnormal bleeding during menstrual periods and excessive bleeding after childbirth.
Our 2021 State of South Carolina Bleeding Disorder Awareness Month Proclamation
Teen Support Group Activity - Living Independently, Choices and Risks Dinner Conversation
Please join Hemophilia of South Carolina and Takeda during the Bleeding Disorders Awareness Month as we come together with Teens and their parents for a fun evening of social interaction among friends. Thanks for joining us! Teens will receive a grub hub gift card for their participation during the dinner hour. Register now: tinyurl.com/HSC031621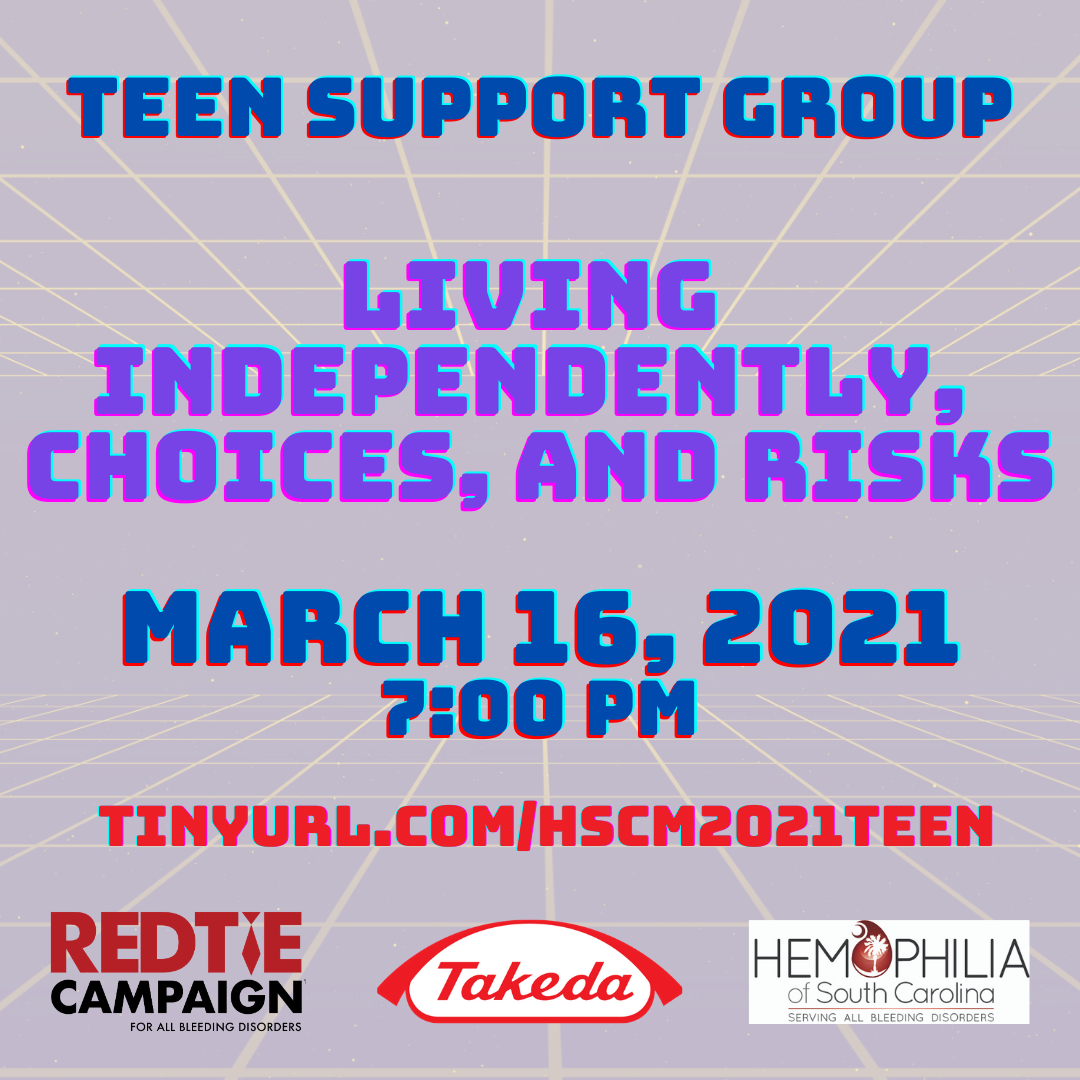 CELEBRATING RARE DISEASE DAY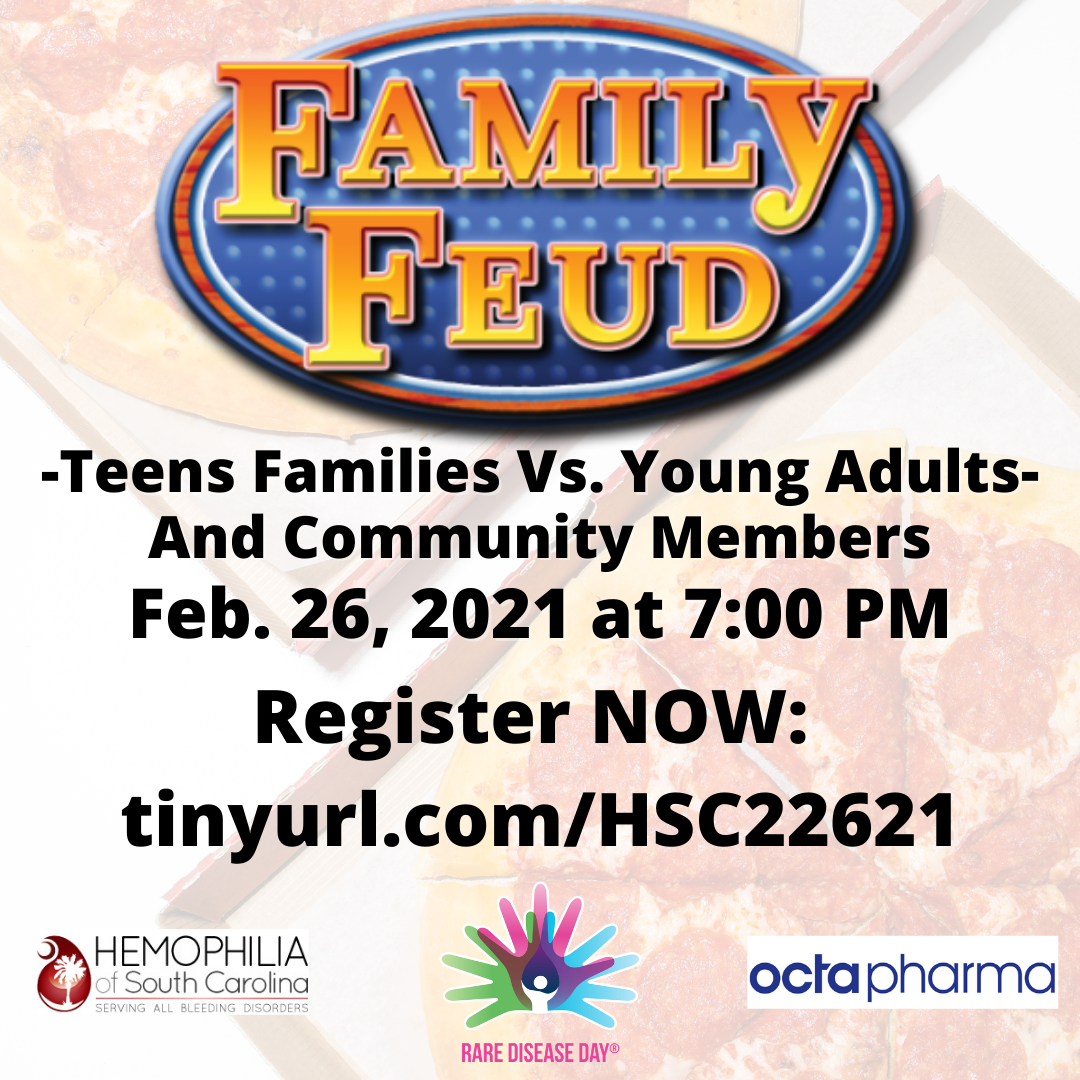 Teens, Young Adults, their families, and Community Members, come celebrate Rare Disease Day with HSC and Octapharma with a fun night of competition in bleeding disorders knowledge! As part of South Carolina's recognition of Rare Day, we're going to come together to socialize, eat pizza, and see who's smarter; our TEENS or our Young Adults! We'll reimburse up to $40 per family or $20 for individuals, but game participation is required! Register NOW: tinyurl.com/HSC22621
JOIN US DURING OUR SPECIAL MONTH OF BLEEDING DISORDERS AWARENESS!
Why March Matters
Our Chapter's Annual Giving drive is held every year during the month of March as part of the national Red Tie Campaign. Funds raised during the campaign helps Hemophilia of South Carolina to support research, global initiatives, community advocacy, education, and access to quality treatment care. All donations to our Red Tie Campaign stay within South Carolina to serve our community.
HSC's Red Tie Campaign runs from Rare Disease Day, February 28th through the World Hemophilia Day on April 17th.
Thank you for supporting our awareness campaign!
World Hemophilia Day 2021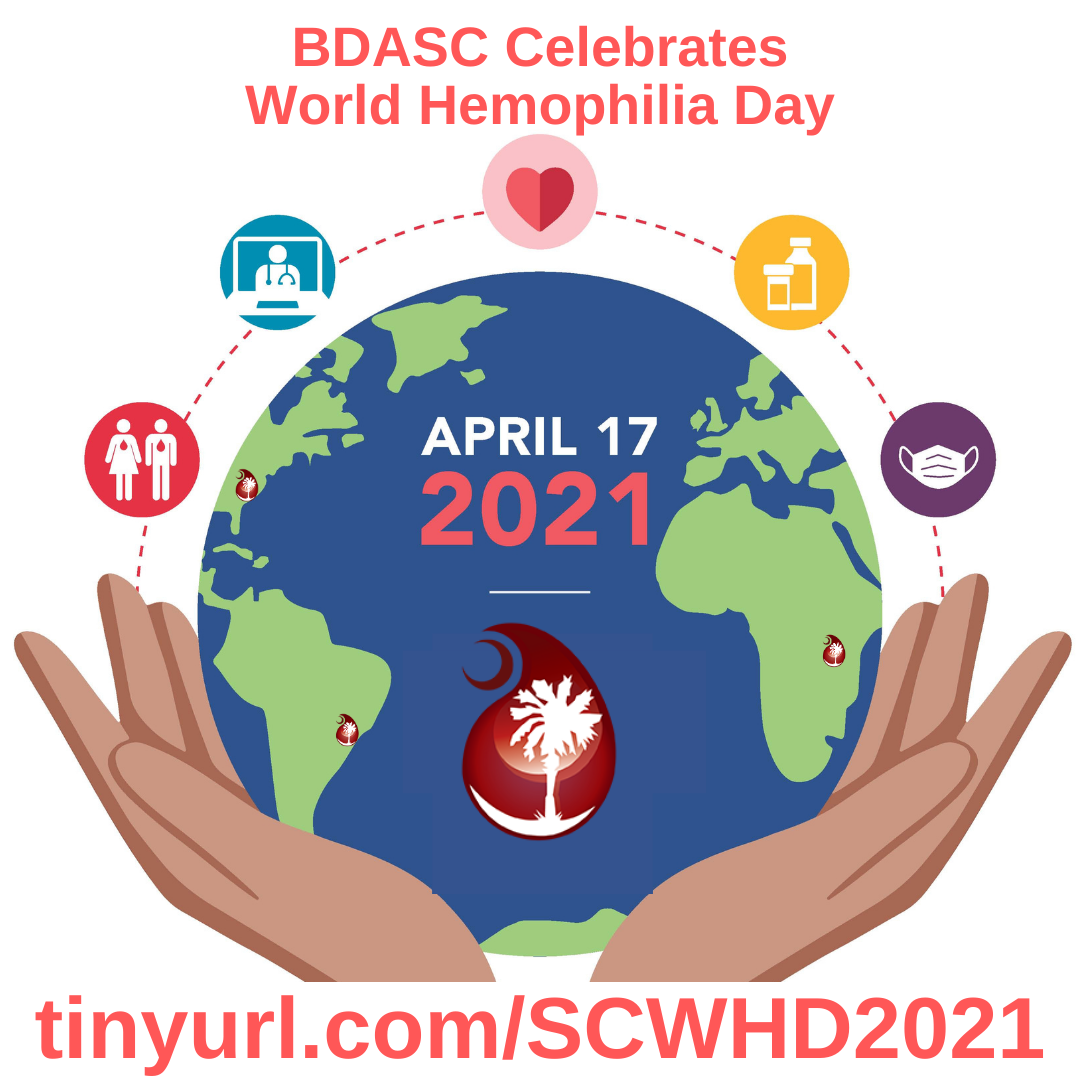 Please come enjoy an evening of celebration as we end our Red Tie Campaign in recognition of the National Bleeding Disorders Awareness month. Come connect with our community members and allow us to say thank you for all you did to promote the efforts of this campaign and learn what life with hemophilia looks like in global countries around the world. Hear from our global partners within the bleeding disorders community and show your support. Together, we will continue to build one strong community! We thank you for joining us for this special night of fun! Register Here: tinyurl.com/SCWHD2021
HSC Member Conversations
We are looking forward to the light at the end of the tunnel, the brass ring is within reach, and our Journey is still just beginning.
As we enter this brave new post-COVID world, we wanted to gather all the members of HSC together to see how everyone is and have some great conversations! We look forward to talking to you about,
Our Continuing Journey, Returning to in person events, Our new name, Community Needs and Outreach, What's happening with Advocacy, Hybrid meetings and groups, and what ever YOU want!
We will also be talking about the even greater roll technology will play in both the Chapter and our lives. Adapting to change in important and we want to make sure none of our members are left behind.
Register: tinyurl.com/HSCMC0329 The Meeting ID is: 847 8425 4365 The Passcode number is: 669401
State Days