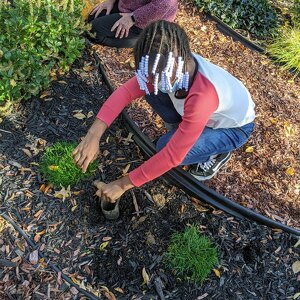 Outdoor Education Advocates
Thank You for Visiting Our Table
Boys & Girls Clubs of Mercer County sturggles everyday to provide full-day virtual learning support, high-quality educational, recreational and healthy-living activities to youth ages 5-18 in the Trenton-area.  
Outdoor Education Advocates are showing our support of the BGC Mercer Gaden and Outdoor Education Program which provides youth with knowledge about insects and plants and farm to table cooking.
By supporting our table, you are helping area youth to gain access to urban green space, 
Our fundraising goal is $15,000, by reaching this goal we will be helping BGC Mercer to deliver programs that teach students about availability of nutritious foods, community ties, reducing environmental hazards, and creating a more sustainable eco-system. Reaching this goal, enables BGC Mercer deliver the outdoor education to all members for one semester.
All funds raised will ensure that the Boys & Girls Clubs of Mercer County is able to continue to enable all young people, especially those who need it most, to reach their full potential as productive, caring, and responsible citizens.
Thank you for your donation to Outdoor Education Advocates. You are making an impact!
Supporters
Michael Gliddon

May 2021

Philadelphia Insurance Companies

May 2021

$50.00

Maryann Herncane

May 2021

$52.00

Anne Gale

May 2021

Carol Genese

May 2021

$100.00
Tarry Truitt

April 2021

$104.00

Carol Genese

May 2021

$100.00

Maryann Herncane

May 2021

$52.00

Philadelphia Insurance Companies

May 2021

$50.00