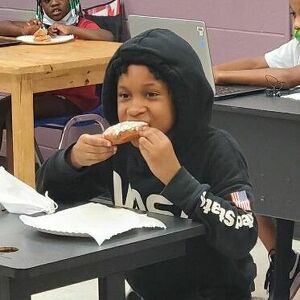 Food Security Seekers
Thank You for Visiting Our Table
Boys & Girls Clubs of Mercer County sturggles everyday to provide full-day virtual learning support, high-quality educational, recreational and healthy-living activities to youth ages 5-18 in the Trenton-area.  
Food Security Seekers are showing our support of BGC Mercer's Healthy Meals Program.
By supporting our table, you are helping BGC Mercer to deliver each of our students healthy meals and snacks everyday.
Our fundraising goal is $15,000, by reaching this goal we will be helping BGC Mercer to provide nutrious lunches and snacks to all our (225) youth for an entire month.  Join us and make a donation. 
All funds raised will ensure that the Boys & Girls Clubs of Mercer County is able to continue to enable all young people, especially those who need it most, to reach their full potential as productive, caring, and responsible citizens.
Thank you for your donation to Food Security Seekers. You are making an impact!
Supporters
Felicia DeVincenzi

May 2021

Elisabeth & Keith Goggin

May 2021

$50.00

Curtis Randall, Jr.

May 2021

$104.00

Rich Gorelick

May 2021

Anonymous

May 2021
Anonymous

I have several family members that are in the education field and as educators they consistently point out the affect that a healthy diet has on students' education. We are grateful to be able to support the wonderful and gifted children in our community

April 2021

$3,500.00

Richard Gorelick

April 2021

$2,500.00

Martin Conroy

May 2021

$150.00

SES

May 2021

$118.00

Jill Cohen

May 2021

$118.00