2020 Harrisburg-Hershey
Promise Walk for Preeclampsia
Moms and babies need you...
Register today!
Walk Details
***VIRTUAL EVENT***
September 27, 2020
1:00pm
Program will be streamed live, followed by a walk around your neighborhood!
Donate to our walk by texting
PWPA to 50155!
Promise Walk for Preeclampsia
The Promise Walk for Preeclampsia™ supports the mission of the Preeclampsia Foundation as we improve the outcomes of hypertensive disorders of pregnancy by educating, supporting and engaging the community, improving healthcare practices, and finding a cure.
The Preeclampsia Foundation is a federally registered 501(c)(3) non-profit, tax ID# 91-2073087. Your contribution is deductible to the full extent as permitted by law. 

For more information, visit www.preeclampsia.org.
Thank You to Our Local Sponsors!
Promise Keepers ($5000)
Penn State Health Obstetrics and Gynecology

Message from the Walk Chairs
Walk day may be over, 
but our job is not.
1). Participate in a fundraiser - Check out our Facebook page or the list below for current and upcoming fundraisers. Click here to go to our Facebook page 
2). Make a donation - click the "Donate" button or text PWPA to 50155. 
3). Tell your friends! Share your story, share information about preeclampsia, and promote the Promise Walk!
If you have any questions or need to reach us, please email us at Hershey@preeclampsia.org. 
Thank you for your support!
Cindy and Jamie
Events & Fundraisers: 
Photo Mini Session
October 10, 2020
Italian Lake, Harrisburg
$50 per family
Need a photo for your family's holiday card? Join us for a photo mini session. Your family will receive 4 to 6 digital images from your 20 minute mini session.
Registration is required. Email hershey@preeclampsia.org to register. Payment due at time of registration.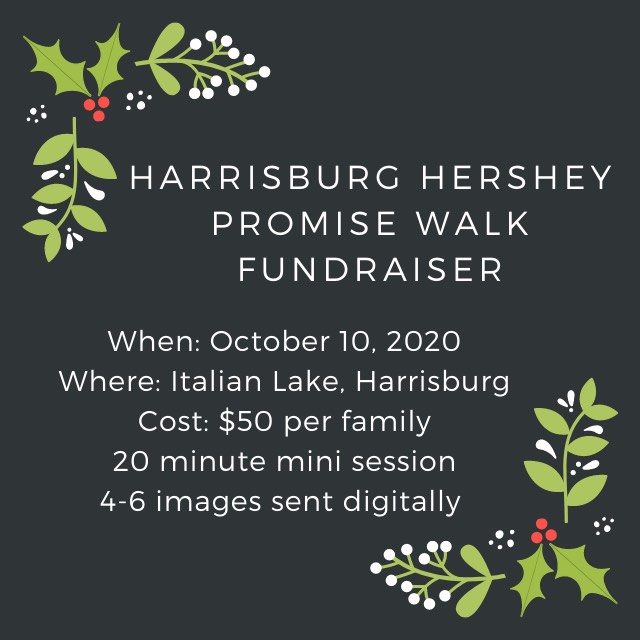 Perfectly Post Party
Coming soon - October 2020
Party will be hosted on Facebook.
Stay tuned for more details....
Thank You to Our National Sponsors!
Our Supporters
Cynthia Deremer

Silent Auction Items

October 2020

$215.00

Cynthia Deremer

Sticky Bun Fundraiser

October 2020

$286.40

Cynthia Deremer

Sticky Bun Fundraiser

October 2020

$174.00

Cynthia Deremer

Sticky Bun Fundraiser

October 2020

$30.00

Cynthia Deremer

Sticky Bun Fundraiser

October 2020

$134.80
Pennstate Health Obstetrics & Gynecology

Sponsorship

June 2020

$5,000.00

Cynthia Deremer

Sticky Bun Fundraiser

October 2020

$286.40

Cynthia Deremer

Silent Auction Items

October 2020

$215.00

Amy Stauffer

July 2020

$200.00

Cynthia Deremer

Sticky Bun Fundraiser

October 2020

$174.00
Our Newest Participants
Easton Drake

Jamie Jones

Derek Smith

Jason Smith

Somya Smith
View All