Rainier Scholars 2022 Virtual Luncheon
Be a Catalyst for Change at our Virtual Luncheon
Wednesday, April 27, 2022, 12 - 1pm PT
** To view the recorded event, click here**
+  +  +  +  +  +  +  +  +  +  +  +  +  +  +  +  +  +  +  +  +  +  +  +  +  +  +  +  +  +
At Rainier Scholars, we believe all students deserve an equal opportunity to excel academically and become thriving community and workplace leaders. 
By igniting a spark and inspiring excellence, Rainier Scholars has changed the life trajectories of over 850 underrepresented students of color. Through this experience, our scholars themselves become catalysts for change as they transform communities, schools and workplaces—creating greater possibilities for future generations.
We are delighted to welcome you to our Virtual Luncheon. Our program will feature Rainier Scholars community members, including:
A parent and scholar sharing perspectives on the pathway to college
Rainier Scholars teachers and school partners, preparing students for the journey ahead
Executive Director Rafael del Castillo and Rainier Scholars-Tacoma leadership, expanding our reach
High school and college scholars, poised to graduate
Alumni making their mark on the world
Please join us by registering, tuning in on the 27th, and making a gift gefore or during the event.
Together, we can all be catalysts for change.
Colleges & Universities with 2022 Rainier Scholar Graduates
Agnes Scott College
Eastern Washington University
Evergreen State College
Harvey Mudd College
Macalester College
Mount Holyoke College
Occidental College
Pomona College
Seattle University
St. Olaf College
University of Alaska-Fairbanks
University of Washington
Wellesley College
Wesleyan University
Western Washington University
About Rainier Scholars
We advance equity in education with a proven model for student success.
Rainier Scholars cultivates the academic potential and leadership skills of hardworking, underrepresented students of color. By creating access to transformative educational and career opportunities and providing comprehensive support to scholars and families, we increase college graduation rates and empower new generations of leaders.
98% of our scholars are on college prep pathways
Over the past five years, 98% of our high school seniors have been accepted to four-year colleges and universities
90% of eligible scholars have graduated or are on track to graduate from college
We have seen over 850 lives transformed to date and with your generous support, we are poised to grow. We have launched a new partnership with Tacoma Public Schools and will be welcoming the very first cohort there this summer!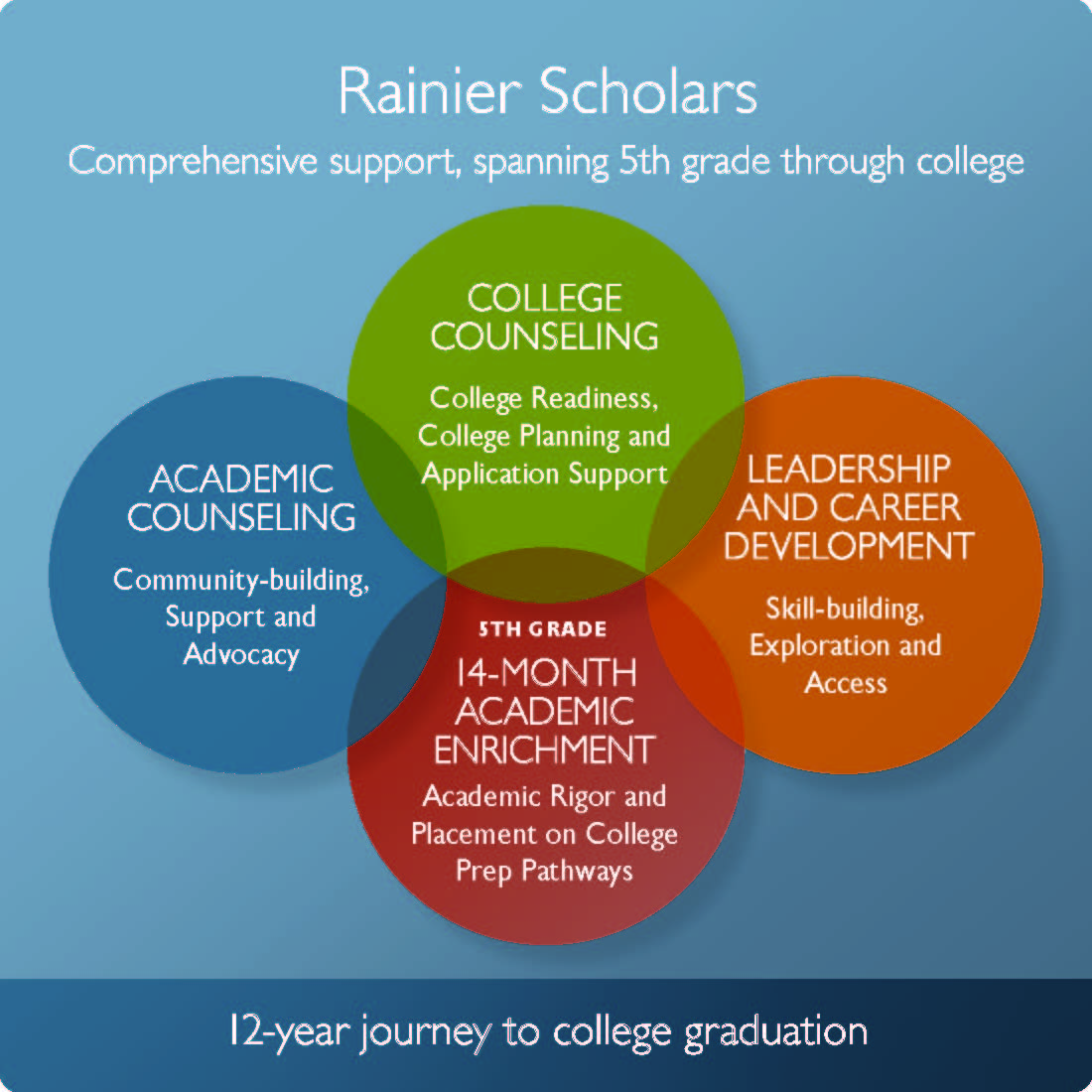 Pathway to College -- Parent & Scholar Story
Rainier Scholars Alumni -- Catalysts for Change