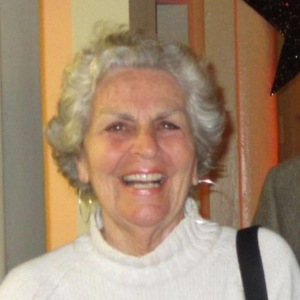 Friends of Sue House Party
Hurry Now! Join the party now and make your donation to support the work of St. John Center. Homelessness Ends Here!
Sue's Story, Your Story
If you knew Sue, you knew her passion for justice and her love for the "guys" at St. John Center.  For the last 35 years of her life, St. John Center was at the heart of Sue's weekly rounds. When she was Executive Director of the Coalition for the Homeless she started her day at St. John Center, greeting the guests as they entered and sharing a laugh, a warm smile and a hot cup of coffee with them.  After she retired, Sue continued as a faithful volunteer and saw her work at St. John Center as central to her continued purpose and calling. 
You may have been one of the staff or one of the guys.  Maybe you volunteered at St. John Center with her, or were on the Board with her.  Maybe you became a volunteer because she talked you into it. Maybe you helped pull off one of the many Raisin' the Rent blow-outs she supported over the years.  You be one of her many besties or someone she mentored.
Tell your story about Sue.  Share a memory or a photo in the comments bar on the bottom right.
My Virtual Party Guests
Nat Davis

March 2021

Southeast Christian Church

March 2021

Sarah Buckler

Sue was spitfire and love and an inspiration.

March 2021

$10.00

Colin &Woo Speed McNaughton

February 2021

$250.00

Virginia Speed

February 2021
William Speed Stodghill

Thanks to all for your support of this worthy cause that Mom loved so much.

February 2021

$1,000.00

lloyd speed

Proud ofl my beautiful Aunt Sue and Cousin Whit

February 2021

$500.00

Anonymous

February 2021

$500.00

Whit Stodghill

January 2021

$500.00

Colin &Woo Speed McNaughton

February 2021

$250.00