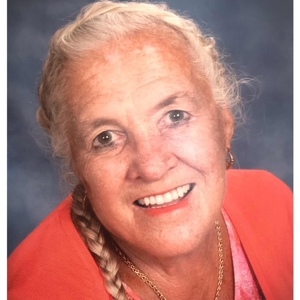 Remembering Our Wild Irish Rose, Mary Margaret….
It's time for Raisin' the Rent at St. John Center for Homeless Men!
With her Irish smile, quick wit, and passion for progressive change, Mary Margaret Mulvihill enriched the lives of all who knew her.  And through her service, leadership, and example, she made Louisville a better place.  We miss her.
For Mary Margaret, the St. John Center for Homeless Men was a powerful instrument for positive change.  She was present the day it opened, and served as a volunteer for three decades - always greeting the men with compassion and love.
The St. John Center is a beacon of hope. And that hope is made possible by your generous support.  This year we ask you to celebrate Mary Margaret's legacy by supporting the Center's annual Raisin' the Rent fundraiser.
Although we won't be able to gather together this year, we hope you will join your heart with Mary Margaret's to support this cause that was so much a part of her life.
Every gift, no matter how small, counts toward reaching our $5,000 goal! But if you can afford to donate $100 or more, we'll deliver a fresh, homemade loaf of Mary Margaret's favorite Irish soda bread straight to your doorstep.
In the meantime, enjoy the pictures, the song, and the memories.  And in these hard times let Mary Margaret's memory be a guiding light for us all.
Mary Bryan and Aggie Noonan
O Danny Boy, performed by Marty Rosen
A special tribute to Mary Margaret from Congressman John Yarmuth
My Virtual Party Guests
Anonymous

So happy to support this effort in honor of MARY MARGARET MULVAHILL!!

April 2021

Adrienne Babb

On behalf of Mary Luke & the Noonans

March 2021

$250.00

Trent Burdick

March 2021

Marilyn Givan

March 2021

$50.00

Linda Billingsley

March 2021

$100.00
Kelly Burdick

February 2021

$300.00

Adrienne Babb

On behalf of Mary Luke & the Noonans

March 2021

$250.00

Andrew Mays

February 2021

$250.00

Bonnie Cress

I feel so fortunate to have known this fun, inspiring and generous lady.

February 2021

$250.00

Roselle Taylor

February 2021

$200.00