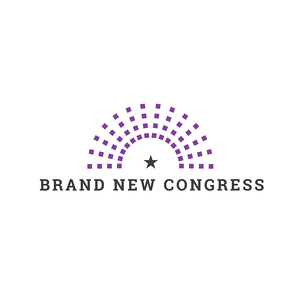 Brand New Congress is proud to endorse Kimberly Graham
Help us get her to the U.S. Senate.
The majority of Congress are detached from the needs of the people. Corporate influence and partisan politics have prevented Congress from passing legislation that addresses the issues faced by everyday Americans.
We must ensure power rests in the hands of the people electing regular Americans to Congress who are not beholden to political parties and corporations. Representatives who will pass legislation to create equality, justice, and liberty for all.
BNC candidates are nominated by their communities and have a track record of integrity. They will fight for policies that advance human rights, justice, and equality for all.
Brand New Congress is proud to endorse Kimberly Graham for U.S. Senate. 
For over two decades Kimberly has dedicated herself to helping regular people have their voices heard. She was a volunteer union organizer for her fellow flight attendants and is now an attorney advocate for children in juvenile court.  Looking at our current situation in Washington, it's time we had someone who stood up for regular folks.
Since starting long-distance running at the age of 48, Kimberly has run 14 half-marathons and one full. There is a point in every marathon where you hit the "wall" and have to fight to finish. That's the spirit Kimberly brings to everything.
She was the first in her family to graduate from college and in true Kimberly fashion, went on to law school. When the firm she worked for didn't want her to take on lower-paying court-appointed cases, she started her own firm so she could.
Legal advocate for kids. Single mom. Strong Iowan. Her family goes back three generations in Iowa, and she raised her son in Indianola, living in rural Iowa for 24 years.
In the courts, she sees firsthand the heart-breaking effects of opioid and methamphetamine use in Iowa. The climate crisis is devastating Iowa with flooding.  Income inequality is increasing poverty.  Iowa's farmers deserve better than trade wars, they need markets and a level playing field.  Universal single-payer healthcare is a key point of her candidacy.
Kimberly refuses to take corporate PAC money or money from corporate lobbyists, making her the best Senator money can't buy.
0
days
0
hours
0
mins
0
secs
Our Supporters
Bryce Adelstein Lelbaxh

November 2019

$50.00

Elizabeth Dumont

November 2019

Anonymous

November 2019

Jacki Temple

I'm glad you have Sparky on your team, and I'm proud of the work your team is doing.

November 2019

$20.00

DEANNA Okeefe

Hi this is Anna Allons :)

November 2019

$5.00
Steven Hollingsworth

This is only my second donation for the 2020 elections. I'm responding specifically because I believe in Samantha Boucher. Have a happy birthday, Samantha.

November 2019

$75.00

Bryce Adelstein Lelbaxh

November 2019

$50.00

Nan Bateman

Happy Birthday Samantha! I'm so glad you were born, and that I got to meet you! Ginny

November 2019

$50.00

Laura Hubka

Go Kim go!!

November 2019

$50.00

Jeffrey Lemberger

Samantha & Kimberely, We are wishing you the best of luck with your campaign! Keep up the hard work.

November 2019

$45.00