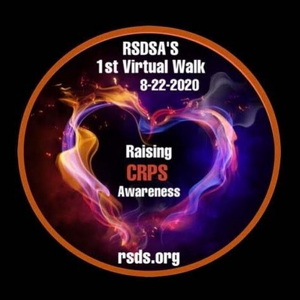 MB's Fierce Fighters - Walking to raise awareness of CRPS/RSD
After breaking her leg in 1993, Maribeth Kreusser was diagnosed with Complex Regional Pain Syndrome (CRPS) in her left leg. In the decades since, the CRPS has spread throughout her entire body.
CRPS is a disabling, chronic, neuropathic disease. The causes aren't totally understood, but as was the case for Maribeth, CRPS is often triggered by an injury to a limb. 
With CRPS, misfiring nerves send continual pain signals to the brain. 
Continual. Pain.
For most of us, this is unimaginable. But for some, this is a daily reality. Presently, there is presently no cure for the disease.
To compound the frustrations caused by this disease for patients and their communities, research and awareness are limited. 
To help bring more attention to this disease, my family and I are participating in the first RSDSA Virtual Walk for Awareness on August 22 and we'd love your support.
If you're able, please consider making a financial gift, $25, $50...whatever you are able, to help us hit our goal and support RSDSA.
If you aren't able to support financially, consider sharing this to spread the word. And don't forget to walk and wear orange on August 22nd, 2020!
And if you have time, consider spending some time learning more about CRPS. Your understanding and awareness of patients with CRPS is a gift of its own.
0
days
0
hours
0
mins
0
secs
Our Supporters
Anonymous

August 2020

Felice Ludington

Lots of love Felice and Peter

August 2020

$100.00

Linda Marshall

August 2020

$250.00

Robert Dennis

August 2020

$150.00

Mickele Bragg

August 2020
Anonymous

August 2020

$2,500.00

Jay Brammer

Hopefully in a small way, this gift and others will help fund research and eventually a cure.

August 2020

$1,000.00

Willis Conner

August 2020

$500.00

Linda Marshall

August 2020

$250.00

Carolyn Birnbach

August 2020

$250.00