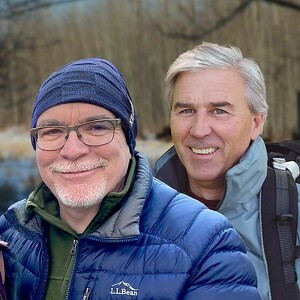 Team Linehan
We're Raising Funds for MPN Research
This summer, we're trekking through the Rocky Mountains to raise awareness and funds for MPN research.
Our Story
Gary:
Being diagnosed with Polycythemia Vera does not define those diagnosed. We are ordinary folk who live with a rare cancer making every effort to live and strive not just for ourselves but those we love. We follow our prescribed therapy and management plans. We stoically deal with symptoms but most importantly we, as all those are challenged to do when told cancer is here, embrace life. We become laser focused on our priorities; humanity. As the ghost, Jacob Marley, stated in Dickens's story, A Christmas Carol, Humanity "………was my business. The common welfare was my business; charity, mercy, forbearance, and benevolence, were all my business. The dealings of my trade were but a drop of water in the comprehensive ocean of my business!"  We focus on our families and their needs. We look at them longer and listen more intently. We work this in, hopefully, without their notice. We then begin to focus our energy on our communities. The MPN cancer community is one of those communities. Our hike is aimed at helping and inspiring that community. 
We're trekking for research because... 
Last Summer I completed the Vermont Long Trail (273 miles with 65,370+ elevation gain). We called it "Blood on the Trail" fundraiser (a nod to Bob Dylan's album Blood on the Tracks album)  This year I was asked by the MPN Research Foundation & CURE Magazine if I would be interested in doing another trek, this time in the Rocky Mountains, in order to build awareness and raise money for cancer research while creating hope and inspiration for other patients and caregivers. It didn't take a lot of coercion to get me on board. When I set out on Vermont's Long Trail last summer I was certainly a bit overwhelmed that I would let people down if I didn't finish especially after I sprained my knee three days into the hike. That night while resting and icing my knee at the McLaughlin home in Brattleboro, Vermont my friend Zach said "…this makes the comeback all the better. This is your Rocky moment!" Well I never planned on a sequel to "Blood on the Trail" but here comes "Sole to Soul" or our Rocky II moment. This year my good friend Paul Sleight will be joining me as we join forces with our fellow team members who were also recruited for this adventure. 
Paul:
I am participating in this summers trek with Sole2Soul for MPN in support …well actually to honor my good friend Gary Linehan. I thought I would share a little about what makes Gary such a special person.
Gary is the Vice Principal at the high school that I've been working at for 28 years. As a relative newcomer to our school system Gary immediately won over staff and students alike. Gary has that unique ability to make  connections with people, whether a seasoned veteran like me, or a freshman student walking into high school for the first time. To witness Gary in action as he greets faculty and students each morning as they enter the building is something to behold. It's like he has a personal relationship with each and every person. You'll catch him firing off a quick one-liner that will result in a smile or you'll hear him asking a student about their day, a game the night before or how their road test went. And considering one of his main responsibilities is student discipline, you'd never know by the way students adore him.
That brings me to last May (2021) when I, along with the rest of the staff received a 'gut punch' in the form of an email from Gary informing us of his current health condition. He began by explaining how the persistent pain he was feeling in his toes, which he had attributed to his rigorous hiking, had led him to the doctors. He then talked of blood tests, oncologists, and introduced us to words like Essential Thrombocytosis, Myoproliferative Neoplasm and finally his diagnosis of Polycythemia Vera a "blood cancer". He explained to us how upon his hearing the word "cancer" he was only able to hear ever other word the doctor spoke. As he began thinking of all of the more important questions like "What would he need to do? How much time did he have? What will his wife Jess do? Does he tell his kids?" He laid it all out there.
Gary's email hit close to home with me because Gary reminds me a lot of a buddy of mine who passed away several years ago from ALS. Both sharing a love for the outdoors – camping, hiking, skiings, and above all both loved being in the mountains. I made this connection when skiing with Gary when he resurrected the ski club at our high school that I had run in the early 2000's. Skiing with Gary reminded me of skiing with my buddy Alden who I've hiked and skied Tuckerman Ravine with on a couple of occasions.
So last summer when Gary decided he would make a stand against this disease by hiking the Long Trail in Vermont — a 273 mile trek from the border of our home state of Massachusetts to the Canadian border —  I asked if I could help in any way. Gary's response was simply that this was something he had to do on his own, but he would welcome a little company along the way. So with that, I along with a fellow faculty member, Paul Bertrand met Gary on the trail and spent a few days and covered a little under 50 miles on the trail with Gary.
That is why I am here for him today.
US:
If you feel so inclined We would appreciate if you would please consider donating to the Myelproliferative Neoplasms Research Foundation (MPN Research Foundation) and support us in our quest. Thank you!
My Supporters
Anonymous

3 weeks ago

Anonymous

3 weeks ago

Anonymous

3 weeks ago

Anonymous

4 weeks ago

Anonymous

4 weeks ago
George Sine

An inspiring and courageous journey by an impressive, compassionate and connected team. Your passage, visual and virtual sharing of your trip, as well as your story provides us all hope and lessons of never giving up! Congratulations and wishing you all

Last month

$522.50

Anonymous

June 2022

$522.50

Dick & Ann Linehan

Your an true inspiration and we love you. Now go kick ass, safely.

May 2022

$522.50

Anne & Richard Sadow

Looking forward to hearing every detail of your adventures. Stay safe and most of all healthy.

June 2022

$261.25

Kelly Sleight

Go get 'em Gary! Try to return him in one piece ...this is a security deposit :)

July 2022

$250.00
Together, We Explore MPN Research!
The landscape of MPN blood cancers is shifting, with emerging treatments and evolving perceptions that are bringing newfound hope to patients, caregivers, and clinicians. We are dedicated to supporting and uplifting the MPN blood cancer community and to investing in research initiatives globally that will lead to a better quality of life for our community. 
We've partnered with "Sole2Soul for MPN" - an innovative collaboration with the CURE Media Group - to empower those who are closely impacted by MPN blood cancers. We've created a challenging program for inner adventure while raising funds to fuel change for those who face a debilitating incurable blood cancer.  
Join us today to change the roadmap for MPN research leading to better treatments and cures
About MPN Research Foundation
The MPN Research Foundation has a single goal: to stimulate original research in pursuit of new treatments — and eventually a cure — for polycythemia vera,essential thrombocythemia and myelofibrosis, known collectively as myeloproliferative neoplasms (MPNs).