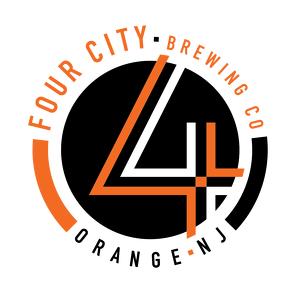 Four City Brewing Company
Four City Brewing Company is proud to be donating our time and our product to support Boys & Girls Clubs of Mercer County!
About The Founder
Four City is located in Orange, NJ and is one of just a few New Jersey craft breweries
owned and operated by a person of color.  Roger Apollon Jr. has been a craft beer fanatic for more than fifteen years. Founder's Brewing Backwoods Bastard was the revelatory taste that led him to form the "Brew Council'', a monthly tasting group that met in his dining room. As Roger's palate developed, the Council hosted themed tastings and visited 100+ breweries, and he found mentors and inspiration at Other Half and Brooklyn Brewing. He also found, in the community of the Oranges, friends and neighbors who encouraged him to follow his dream. Prior to his creative outlet at Four City, Roger's career path led him to 15 years in New York's fashion industry, and 16 years as a physical education teacher—and for all of that time he has been an active musician and singer, founding ska and reggae bands Bigger Thomas, Rude Boy George and Heavensbee. Born in Newark, Roger grew up in West Orange, attended high school in East Orange, and graduated from Rutgers University in New Brunswick. He and Sally, his wife of 25 years, have two sons, Jax and Antony. What free time remains to him is devoted to his favorite soccer team, Tottenham Hotspur.
Thank you from all of us at BGC Mercer!