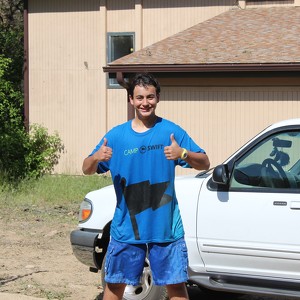 Zachary Schawelson
April 14, 2020 - April 30, 2020
0
days
0
hours
0
mins
0
secs
We Love Grilled Cheese!
Hi! It's Zachary Schawelson, and I am a member and intern of the Swift Youth Foundation. The Swift Youth foundation is a non-profit organization that provides underprivileged youth in the Phoenix area with year-round programs that make a difference in their lives. This is my Swift Story.
The summer before my sophomore year at high school was my first session volunteering at Camp Swift as a counselor. That summer changed my life. On my first day, one of my campers came up to me and told me that he wasn't having fun and that he didn't want to be there. After a few activities later in the day, and dumping a huge bucket of water on myself, I was able to change his whole perspective of camp and after that first day, he would not stop smiling the rest of the session.
After five wonderful sessions as a counselor at camp, I became part of Team Swift, a teen leadership program created to help Swift thrive. I am asking you to please donate to my fundraising page and to help me reach my goal of $1,000. By donating to my page, you are helping me support the Swift Youth Foundation and giving more underprivileged youth opportunities to attend camp for an experience of a lifetime. What's great about donating to my page, is that all of the money that you donate to my page is tax deductible! 
Any amount that you are able and willing to donate will be greatly appreciated and will be used to help send campers to camp and give them a summer of a lifetime.
$400 sends 1 child to a session of Camp Swift
$100 teaches outdoor skills at Swift Outdoors
$50 provides afternoon snacks to participants
$25 provides a sleeping bag for 1 camper
$5 gives a kid a grilled cheese day at Camp Swift
My Supporters
Anonymous

April 2019

Rick Schawelson

oops, a bit late. Hope you still want the money :-)

April 2019

$52.57

Deanna Byck

April 2019

Anonymous

You're doing great Zach!

April 2019

$26.29

Anonymous

April 2019

Alex Schwartz

April 2019

$10.51

Dana Schawelson

April 2019

Leah Zigmond

April 2019

$26.29

Kara Sherman

April 2019

$10.00

Shannon Blaire

April 2019

$10.00

Lauren Bander

March 2019

Ever Prishkulnik

March 2019

$5.00

Morgan Reimer

March 2019

sam klein

March 2019

$50.00

Noah Goldenberg

March 2019

$5.00

Gabby Sudhalter

March 2019

$15.00

Ruthie Sorom

March 2019

$25.00

Michelle Sorom

March 2019

$40.00

Anonymous

March 2019

Jeffrey Schawelson

March 2019

$26.97
Michael, Dorothy and Shannon Blaire

March 2019

$400.00

Ellen Schawelson

March 2019

$54.08

Rick Schawelson

oops, a bit late. Hope you still want the money :-)

April 2019

$52.57

sam klein

March 2019

$50.00

Michelle Sorom

March 2019

$40.00

jeffrey katz

March 2019

$36.00

Jeffrey Schawelson

March 2019

$26.97

Anonymous

You're doing great Zach!

April 2019

$26.29

Leah Zigmond

April 2019

$26.29

Maya Deol

March 2019

$26.29

Ruthie Sorom

March 2019

$25.00

Bernice Klein

March 2019

$25.00

Zachary Schawelson

March 2019

$25.00

Eric Katz

Good luck with your fundraising! From kitty Katz and family.

March 2019

$25.00

Gabby Sudhalter

March 2019

$15.00

Alex Schwartz

April 2019

$10.51

Kara Sherman

April 2019

$10.00

Shannon Blaire

April 2019

$10.00

Daniyal Afzaliannaini

March 2019

$5.26

Jacob Blackstone

March 2019

$5.18