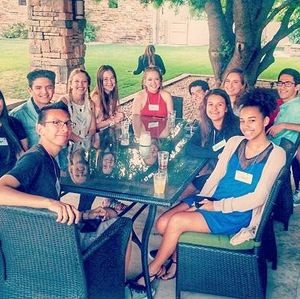 Teanna Pilkinton
April 14, 2020 - April 30, 2020
0
days
0
hours
0
mins
0
secs
Through your generous financial support of Swift Youth Foundation on Arizona Gives Day, you are helping to provide the funds necessary to sustain Swift.  Your gift enables Swift to continue providing positive programming for the youth of Arizona; one kid who has been positively impacted is me!
I was introduced to Swift at Camp Swift when I was 11 years old, and because I had the best week of my life, I wanted Swift to be a constant presence in her life. Once I reconnected with Swift as I started high school career and became a teen volunteer, I found it remarkable the way my campers looked up to me. Whether through my words or actions, I started to better understand my role as a leader and yearned to develop these skills, so I can be the best role model I could be, even at a young age. I still volunteer weekly as a teen leader at Swift AfterSchool and continue to return to Camp Swift each summer as a volunteer counselor and lifeguard. During Team Swift, a teen-board that develops programs for Swift and helps run the backworks of Swift, I'm always actively seeking ways to grow my role in the community and accept new leadership opportunities. Through Swift and all of its programs, I now know that I want to stay in social work for the rest of my life, and it is through your generosity that I have found that purpose and also a lasting, positive influence like Swift in my life.
Swift is a home away from home!
My Supporters
Gabriele Militello

April 2019

$10.51

Fraool Muleta

April 2019

$26.29

Corinne Bailey

April 2019

$20.00

Caroline Pilkinton

April 2019

$420.60

Megan Ferguson

April 2019

$10.51

Kelsey Fickes

April 2019

Lorena Ortiz

April 2019

$10.51

Saige Munig

April 2019

$50.00

Angelina Lundeen

April 2019

$25.00

Gabbi Smith

Teanna is one of the only people I know who goes out of her way to raise money for the swift kids, and any good cause in general. She's generous and kind with her time and has truly dedicated herself to getting these donations. What a woman, that is all.

April 2019

$10.51

John Baughman

April 2019

$52.57

Noah Solomon

April 2019

$35.00

Josh Luckey

April 2019

$10.00

Corinne Bailey

March 2019

$80.00

George Bcharah

March 2019

$10.51

Anonymous

March 2019

$5.00
Caroline Pilkinton

April 2019

$420.60

Corinne Bailey

March 2019

$80.00

John Baughman

April 2019

$52.57

Saige Munig

April 2019

$50.00

Noah Solomon

April 2019

$35.00

Fraool Muleta

April 2019

$26.29

Angelina Lundeen

April 2019

$25.00

Corinne Bailey

April 2019

$20.00

Gabriele Militello

April 2019

$10.51

Megan Ferguson

April 2019

$10.51

Lorena Ortiz

April 2019

$10.51

Gabbi Smith

Teanna is one of the only people I know who goes out of her way to raise money for the swift kids, and any good cause in general. She's generous and kind with her time and has truly dedicated herself to getting these donations. What a woman, that is all.

April 2019

$10.51

George Bcharah

March 2019

$10.51

Josh Luckey

April 2019

$10.00

Anonymous

March 2019

$5.00