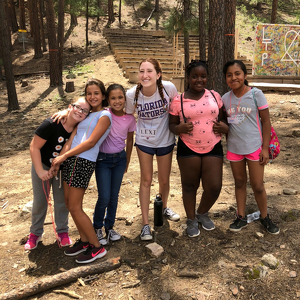 Lexi Zidel
April 14, 2020 - April 30, 2020
0
days
0
hours
0
mins
0
secs
There is not enough good things to say about Swift and the impact it has had on my life and on the world.
Swift provide essential programs, mentoring, and (my favorite) a summer camp for underserved Phoenix, Arizona youth.
The relationships formed through Swift are lifelong and irreplacable.
We exist because of people like you that believe in our mission and are willing to support us. Lets make some magic happen, and send some kids to the happiest place on Earth!!.... it's not Disney.... Its Swift!
Swiftly Out, Lexi 
My Supporters
Anonymous

April 2019

Joey Black

So proud of you big cousin Lexy!

April 2019

$50.00

sheryl goodman

Dear Lexi Zidel; I am so proud of you and the work that you are doing . Aunt Sheryl

April 2019

$50.00

Paul Zidel

April 2019

$105.15

Samantha Parry

April 2019

$5.00

Lory Vacaneri

April 2019

$20.00

Lila Mirza

April 2019

$10.00

Sarah Jacobsen

April 2019

$20.00

Claire Adams

April 2019

$5.00

Eva England

April 2019

$5.00

Nicole Eckhardt

April 2019

$10.51

Kristi Luper

March 2019

$5.00

Meri Paul Parker Zidel

Keep on giving

March 2019

Ally Cerlanek

March 2019

$10.00

Harshini Thinakaran

March 2019

$5.00

Julia Casillas

March 2019

$5.00

Magali Montes

March 2019

$50.00

Olivia Esteves

March 2019

$5.00

Alyssa Candioto

March 2019

$10.00

Rhea Churi

March 2019

$5.00
Paul Zidel

April 2019

$105.15

Joey Black

So proud of you big cousin Lexy!

April 2019

$50.00

sheryl goodman

Dear Lexi Zidel; I am so proud of you and the work that you are doing . Aunt Sheryl

April 2019

$50.00

Magali Montes

March 2019

$50.00

Lory Vacaneri

April 2019

$20.00

Sarah Jacobsen

April 2019

$20.00

Nicole Eckhardt

April 2019

$10.51

Lila Mirza

April 2019

$10.00

Ally Cerlanek

March 2019

$10.00

Alyssa Candioto

March 2019

$10.00

Lexi Zidel

March 2019

$5.26

Samantha Parry

April 2019

$5.00

Claire Adams

April 2019

$5.00

Eva England

April 2019

$5.00

Kristi Luper

March 2019

$5.00

Harshini Thinakaran

March 2019

$5.00

Julia Casillas

March 2019

$5.00

Olivia Esteves

March 2019

$5.00

Rhea Churi

March 2019

$5.00

Raj Watson

March 2019

$5.00