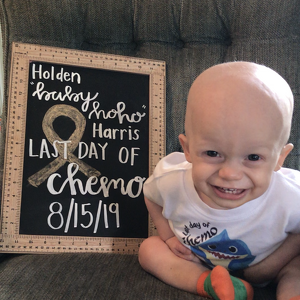 Holden Our Hearts
July 11, 2020 6:00pm - 10:00pm
Team Holden Our Hearts
#holdenourhearts
On March 7th, 2019 we received what felt like the worst news ever.  We sat in a hospital room in the middle of the night and first heard the words "blood cancer." From that day on we began to fight, along with Holden, for the next 6 months. During this time we have met some of the sweetest, most caring humans. Many of the connections we have made were made possible by the ASK organization. ASK has paid our mortgage, put our daughter in preschool, provided respite care for Holden in the hospital, and continuously checked in on us through this whole process. 
Since March 7th we took a hard turn off the path our life was on. Leaving jobs, missing family vacations, and spending countless hours at the hospital all pushed us into this uncharted territory. ASK has helped to guide us toward good things again. They also let us know that once you are an ASK family, you are one for life. Holden is no longer on treatment and he goes to clinic less and less - this is great news, but, it also means that our hospital family (nurses, doctors, child life specialists, kitchen staff, cleaning people, security guards) are no longer a part of our life. We know that through this new phase, and into our future we will continuously be supported by this amazing organization. 
Please consider supporting them as they have, and will continue to, support us.
0
days
0
hours
0
mins
0
secs
PH

Piper Harris

HH

Holden Harris
Our Supporters
Facebook Fundraiser

May 2020

$70.00

Janice Rusbasan

May 2020

$20.00

Erin Hatchett

May 2020

$100.00

Amanda Santoni

May 2020

Virginia Stewart Virginia Stewart

May 2020

$50.00
Melinda Clapp

So thankful for Holden's good health! Praying that his life continues to bring HOPE and JOY to many!!!

March 2020

$250.00

McGeorge Toyota Matching Gift

May 2020

$120.00

Facebook Fundraiser

May 2020

$120.00

Erin Hatchett

May 2020

$100.00

Facebook Fundraiser

May 2020

$70.00