The dancing ended, but fundraising is not over!
You can continue the momentum and help even more women and families by donating here.

Women are disproportionately impacted by the pandemic, but with your help, the YWCA can continue to respond by supporting women and children with food, child care, emotional support, employment programs and housing, including for those experiencing intimate partner abuse.
Join us on our virtual dance floor!
Join us on February 2, 2022 for FIVE hours of music, dance and fun hosted by Johanna Ward and led by awesome DJs, including Virgin Radio's DJ Flipout, YWCA Health + Fitness instructors and special guests. Free to register and participate. All ages and abilities welcome!
DANCE // MUSIC // FUNDRAISE: Our goal is to raise funds, spread the word about our programs and services at the YWCA, all while having fun on the dance floor!
The Y Dance-A-Thon Line Up
Wednesday, February 2, 2022
3:00pm - Freestyle // Opening Freestyle FUN! with DJ Barron S 
3:30pm - Workshop // BollyLatin Fusion with Yeshvi Mehta 
4:05pm - Workshop // KPop Fever with Kevin Le 
4:35pm - Freestyle // Dynamic Dance Party with DJ Agile 
5:05pm - Workshop // Hip Hop Hoorah with Natasha Gorrie 
5:30pm - Workshop // Bollywood Bonanza with Rohan D'silva
6:00pm - Freestyle // The Remix Dance Party with DJ Flipout
6:25pm - Workshop // Zappy Zumba with Alesya Bogaevskaya
7:00pm - Workshop // DanceFit! with Johanna Ward
7:35pm - Workshop // Cool Down Calm with Amanda Jane
Learn more about the workshops here >>
Registration is FREE! 
We suggest that participants pledge or fundraise a minimum of $100, but this isn't required and of course the sky is the limit. Registrants may also fundraise without taking part in the danceathon or pop in and out of the dance party as they like.
*A unique access link will be provided to participants. Should you have trouble accessing the event or need assistance, please email ydance@ywcavan.org or call (604)895-5785.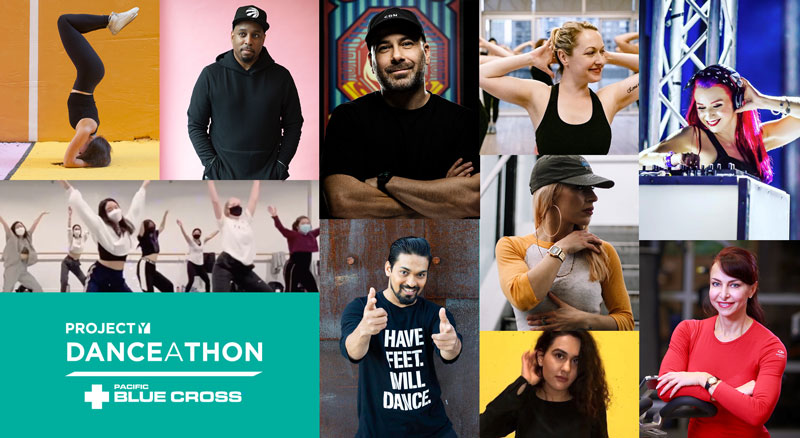 Spread the word!
Share this event with a friend and tell them about Y Dance-A-Thon!
What are we fundraising for?
Funds raised from Y Dance-A-Thon will support the YWCA's essential work in areas like housing, food security, violence prevention programs, mentorship, single mothers' support services, child care and other services supporting women and families.
Every year, YWCA Metro Vancouver supports over 48,000 clients and program participants. Your gift ensures that families across Metro Vancouver can connect with the essential supports they need to be safe, healthy and experience the quality of life they desire.
Your donation will help us continue to serve the women and families who turn to the YWCA for connection and support at this critical time. Thank you!
About the YWCA 
The YWCA opened its doors in 1897 to provide housing and services to women coming to Vancouver in search of education or employment. With more than a century of experience helping women and families realize their full potential, the YWCA is now one of Metro Vancouver's largest non-profit organizations. 
Our holistic, integrated programs and services help lift women and families out of poverty, provide the best start for children and create new opportunities for education, employment and leadership. Our vision is to achieve women's equality.