ONLINE REGISTRATION CLOSED
WHAT TIME DOES THE EVENT START?
Participants gather at Old Mill Park in Mill Valley CA at 8 a.m. to register, have breakfast, be inspired, warm up and take photos. The hike begins at 9 a.m.
HAVE QUESTIONS ABOUT THE EVENT ITSELF?
Scroll down to the bottom of the page to find answers!
WANT TO HELP/VOLUNTEER?
Thank you! Please complete the volunteer sign up form here and we will follow up with you.
HIKE FOR HEALTH AND THE NEXT GENERATION!
Participants gather at Old Mill Park in Mill Valley CA at 8 a.m. to register, have breakfast, be inspired, warm up and take photos.  The hike begins at 9 a.m.
The 16th Annual Dipsea Hike for Zero Breast Cancer takes place on Saturday September 22nd, 2018
Researchers, doctors and breast cancer survivors know the importance of Rx Exercise in preventing, surviving and recovering from breast cancer! Read more here!
What better way to act in solidarity with those who have experienced breast cancer and support ongoing efforts to make a difference than to participate in the Dipsea Hike for Zero Breast Cancer?
Learn more at www.zerobreastcancer.org!
Fitness SF - Leaders in health and wellness!
Be inspired! Teen leaders support Zero Breast Cancer
Prioritizing prevention is important and undervalued!
FAQs - Frequently Asked Questions
Please read below!
If you have a question that is not addressed here, please contact us at (415)507-1949 or dipsea@zerobreastcancer.org.
What is the location and hike route?
Starts and Finishes in:
Old Mill Park, Mill Valley, CA 94941
From Old Mill Park (Cascade Dr) go up the famous Dipsea Steps to the Dipsea Trail.
Cross Panoramic Hwy and follow the Sun Trail to the German Tourist Club, take the Redwood Trail to the Panoramic Trail until you reach the Mt. Home Inn on Edgewood Ave.
Continue down Edgewood Ave to take either the: 
TENDERFOOT TRAIL to the Cypress Trail back down the Dipsea Steps, leading to the finish in Old Mill Park. (approx 6.29 mi - see map)
PIPELINE TRAIL back down the Dipsea Steps, leading to the finish in Old Mill Park. (approx 5.35 mi - see map)
NOTE: Along the course you will encounter rocky dirt trails and residential areas. Please be aware of your surroundings and pay attention for cars, bicyclists and other hikers. There are no shuttles back to the starting line.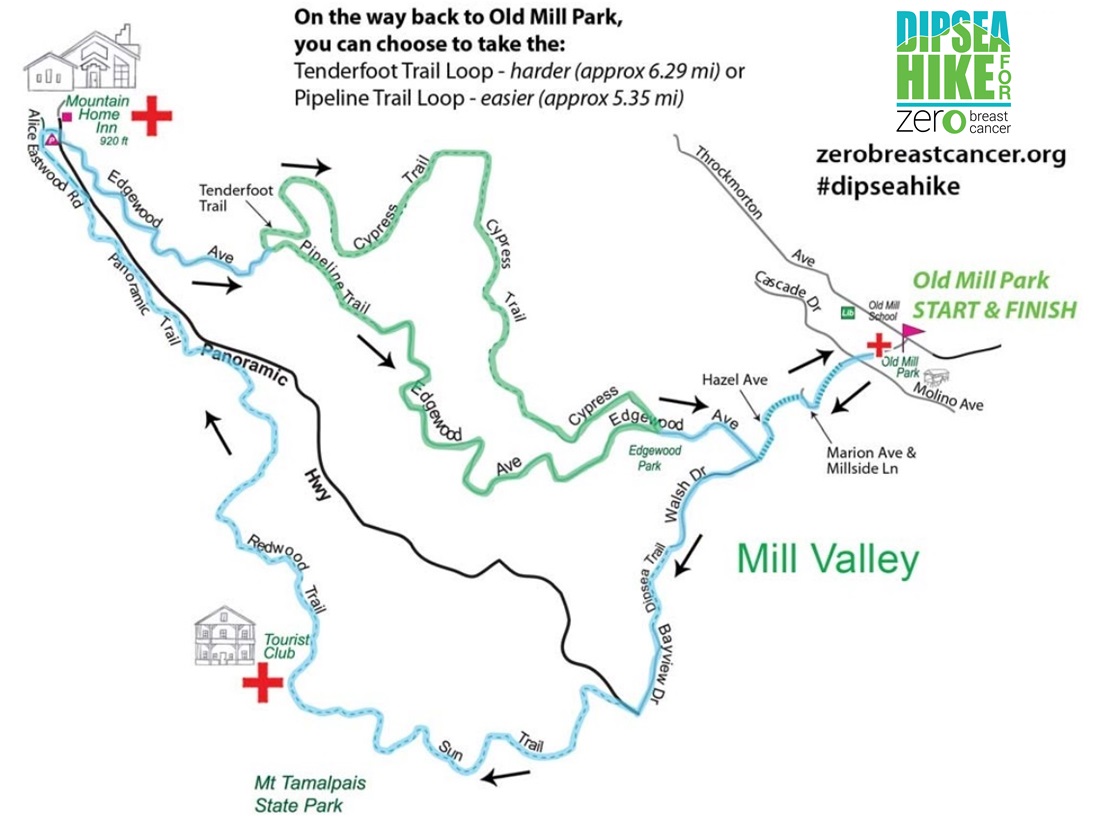 What should I wear and bring?
For everyone:
Hat with a brim.
Water bottles. Fill them up at home. There will be water at the aid stations and there are a couple water fountains along the course.
We will get you going with a snack and have lunch for you at the end, but bring extra food just in case.
Sunscreen, lip balm, and sunglasses.
Medications.
Cell phone.
For hikers and runners:
Comfortable athletic shoes. Hiking shoes or boots are best. Make sure they are broken in.
Dress for weather. Select clothes with synthetic fabrics. Avoid cotton fabrics.
What are the parking and park/trail rules?
There is no designated parking. Limited street parking is available in the surrounding neighborhood. Carpooling is strongly encouraged. Mill Valley parking meters are active 7 days a week. [NOTE: The START and FINISH are in: Old Mill Park, Mill Valley]
 **The Mill Valley Police Department has requested that participants of our event do not park at the Mill Valley Public Library. Please help us keep our annual permit by heeding this request.
Keep it clean!
Our goal is to minimize our impact on the park and the trail. Together we can make this happen by minimizing use of plastic water bottles, make use of the bins provided, separate out compostable, recyclable and landfill items and each take responsibility for our own waste. Thank you for caring for our environment.
SORRY.  No Pets or Strollers
The CA State Park does not allow dogs on the trails we are using for the Dipsea Hike. The trails are not stroller accessible. If you are bringing a young child, we suggest using a child carrying pack or baby carrier.
How do donations make an impact?
Funds raised support next generation breast cancer risk reduction campaigns that are bold, eye-catching and focused on actions that everyone can take. 
Over the last 18 months, we scaled up the distribution of the 13 Ways to Reduce Your Risk of Breast Cancer posters and brochures in English and Spanish. We also released the Girls' New Puberty eGuide in English and Infographics in English, Spanish and Chinese. By the end of 2018, the range of materials will have expanded to an eGuide in Spanish and a series of YouTube videos in English, Spanish and Chinese.
Sponsors, participants and donors like you enabled Zero Breast Cancer to distribute these materials FREE. Over 30,000 posters, pamphlets and infographic bookmarks have been distributed to the following locations and organizations:
High school health and wellness centers 

High school health fairs

High school breast cancer club meetings

Student led projects in 7th and 12th grade

Girl Scout troops

County wide girls' empowerment conferences

Breast cancer conferences in diverse communities

Community clinics

Partner organizations

Online readers of ZBC blogs, social media and monthly e-newsletters
Zero Breast Cancer also provides in-person support at events so that we can answer questions and engage with people seeking to understand and learn.
If you know of other organizations that would be interested in these materials or having us make presentations, please share their details with us here. Thank you!
How do I record and submit offline donations?
ALL DONATIONS ARE GRATEFULLY RECEIVED!
ZBC is a registered 501(c)3.  Tax ID # 68-0386016
Online donations are strongly preferred as they are immediately attributed to the individual or team that the donor is supporting.  Your help in encouraging online donations helps Zero Breast Cancer focus on our mission and our program and reduces the amount of administration needed to support this event.  Thank you for your help and understanding!
When your family, friends, neighbors and co-workers make an online donation they can opt out of receiving emails from Zero Breast Cancer and we will fully respect their privacy.  They will receive an online acknowledgment of their donation for their records, of course!
If your supporters would prefer to make a donation by check please encourage them to fill out this form and mail the check directly to:
Zero Breast Cancer
ATTN: Dipsea Hike
30 North San Pedro Road, Suite 140
San Rafael, CA 94903
Please Note: Checks should be written to Zero Breast Cancer and the memo line should have your name/the name of your team. That way, the donation can be properly validated and credited.
Cash donations cannot be accepted directly by ZBC. If your supporters wish to give you cash, please follow the steps above and send us a check made out for the amount of cash you have received. You will be credited with this donation and a tax-receipt issued to you.
Your fundraising page makes it easy to record all check/cash donations and track your fundraising goal!  Its all explained in 4 easy steps here!
Thank you for submitting offline donations to Zero Breast Cancer regularly and in a timely manner!
What are my options for participating?
Hiking or Running: If you enjoy hiking or running, please join us for the 688 Dipsea stairs and either a 5.35 mi or 6.29 mi trail through the beautiful hills of Mt. Tamalpais State Park. Register here.
Tai Chi: If you cannot or would rather not tackle the famous yet strenuous Dipsea steps, please join us for tai chi at Old Mill Park. The workshop will be led by Tai Chi Foundation of Marin County's Julie Reinganum, who is generously donating her time and expertise. She will teach qigong techniques for beginners so that participants will learn health-supporting movements they can continue using long after the class. UPDATE: Tai chi was canceled this year due to insufficient registration. Please email us at dipsea@zerobreastcancer.org if you would like it to be offered in the future! 
Virtual Participation: If you are unable to make it to our event, we would love to have you as a virtual participant raising funds! You can register for a fundraising page to encourage your family, friends and colleagues to donate to the event. Register here.
Sponsored Survivor Participation: If you are a breast cancer survivor currently feeling financially strapped, please email us at dipsea@zerobreastcancer.org. We will seek to match you with support from our generous donors so that you can participate in either the hike or tai chi at no cost to you. We consider survivors anyone who has ever had a breast cancer diagnosis, including those of you recently diagnosed.
Donate: If you are interested in donating, thank you! You can donate to the event, a team, or an individual. Donate $165 to enable the participation of a breast cancer survivor free of charge. Please click here for the donation form. 
Sponsor the Event: If you or your company would like to help make this event happen, please consider becoming an event sponsor by contributing cash, in-kind services/goods, and/or prizes. Fill out our form here and receive sponsorship benefits, including your logo on our website!
Volunteer: If you would like to help out ahead of or on the day of the event, we would greatly appreciate your assistance! Fill out our volunteer form here to indicate how you are able to help and we will follow up with you.