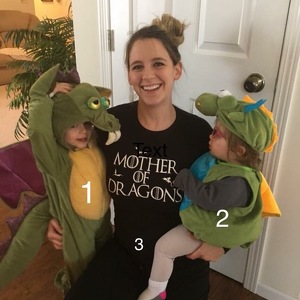 Baby Hau-Vanderkin is ready to PARTYYYYY!
"We are continuing on our greatest adventure of life by welcoming our third baby GIRL to our family! Anyone who knows me, knows how much I've wanted and dreamed about being a stay at home mom and now I get to do it! We are so thankful we made this decision because at our 20 week ultrasound we found out our baby had a heart complication which sent us to Froedert, where we learned she'll need heart surgery within the first 6 months of her life. We also found out she has that special extra chromosome 21, which means she has Down Syndrome as well. Since finding out this news, Ryan and I have immersed ourselves in learning about Trisomy 21 which has given us the passion, excitement, and drive to provide our 3 daughters with everything this world has to offer. We have been through all sorts of emotions but have found peace and excitement from knowing our little girl chose us. And with the love and support of our families and friends we know deep in our souls that life will continue to be a wild, fun, and amazing adventure." -Josie & Ryan
I have known Josie for most of my life and I have been lucky enough to get to know Ryan over the years :) What I know is that they are two of the most loving, caring, giving, and supportive people you will ever meet. I cannot imagine a couple greater equipped for this amazing journey.
 **If you cannot make it to the walk, please consider donating to the the DSAW. This organization has so many different important facets: research, advocacy, support, education, career transitioning, etc. Working in the public schools, I have seen first hand the wonderful things this organization does for the child, community, and for families. Thank you!!!!! --Amanda
Thank you for visiting our fundraising page! Whether it's a friend, a family member, or neighbor down the street, we almost all know someone with Down syndrome. Like us, many of you have been personally touched by the lives of these individuals. We are proud to be part of the Down Syndrome Association of Wisconsin's 22nd Annual Statewide Down Syndrome Awareness Walk because it means so much to us and to our family.
People with Down syndrome are more ALIKE the rest of us than they are different. They have feelings, talents and dreams just like everyone. They deserve to be accepted and appreciated for who they are and what they contribute to our lives and our communities.
Donating through this website is simple, fast and totally secure. It is also the most efficient way to support our fundraising efforts. You can make your tax-deductible donation online, or if you would prefer, you can send your contribution to the DSAW Office: 11709 W Cleveland Ave, Suite 2, West Allis, WI 53227 (Just be sure to write our team name on the memo line so that we get credit for the donation!) Whatever you can give will help - it all adds up! To sponsor us simply press Donate Now.
Please also join us on Sunday, September 23rd, at the Milwaukee County Zoo as part of our team. It's an incredible day of celebration with family, friends, and people who, like you, want to raise awareness, raise funds, and raise the hope of a better world for all people with Down syndrome. With your support and involvement, our goals of acceptance, inclusion and empowerment will become a reality!
To join our team, click Join My Team.
Many thanks for your support, and PLEASE don't forget to forward this to your entire address book and anyone else who you think might want to donate and register to walk as part of our team.
Matthew Mattila

$20.00

Mike Schultz

$20.00

emily pfeiffer

$20.00

Erin Mattila

$20.00

Bailey Blanke

$20.00

Kevin Knoblauch

$20.00

Lisa Hau

$20.00

Nick Grosskreutz

$20.00

Eugene Hau

$20.00

Emily Wojtowicz

$20.00

Elizabeth Knoblauch

$20.00

Toni Van Epern

$20.00

Thomas Lucash

$20.00

Tricia Brown

$20.00

Chris Brown

$20.00

Peggy Pfeiffer

$20.00

Josie Hau

$20.00

Ryan Vanderkin

$20.00

Callie Harder

$20.00

Andrew Harder

$20.00

Amy Brown

$20.00

Scarlett Lucash

$15.00

Eden Knoblauch

$15.00

Henry Knoblauch

$15.00

Olive Vanderkin

$15.00

Rick and Peg Hau

$12.00

Isabelle Mattila

Morgan Schultz

Beatrix Rudnick

Delaney Mattila

Jack Lucash

Elodee Vanderkin
0
days
0
hours
0
mins
0
secs
Our Supporters
Bonnie and Randy Bertram

September 2018

$75.00

Kelly Leist

September 2018

Clinic nursing Staff

September 2018

$75.00

Cal Lukasavitz

We are sad we can't be there but miss you guys!

September 2018

$25.00

Donna Rabe

September 2018

$50.00

Cindy and Tony Canadeo

Go team Party Like you're T21. We are there with you in spirit!

September 2018

$50.00

Beth Waller

September 2018

$300.00

Abbi Utecht

❤️❤️❤️❤️

September 2018

$20.00

Ellen Penfield-Schneider

September 2018

Mary Smuda

September 2018

Patricia Bertram

September 2018

$50.00

Bri Goelzer

Happy to support a great cause! So excited to meet Baby Vanderkin-Hau!

September 2018

$100.00

Elizabeth Knoblauch

September 2018

$100.00

Anonymous

September 2018

Cheryl Hellestad

September 2018

$50.00

Breanna VandeZande

September 2018

$50.00

Katie Reinke

September 2018

$52.50

Rick and Peg Hau

August 2018

$50.00

Ronald Engel

August 2018

$50.00

Bailey Blanke

August 2018

$25.00
Beth Waller

September 2018

$300.00

Suzanne Holder

August 2018

$200.00

Heidi and Nate Johnson

August 2018

$200.00

Summer Hoffman

Hau-Vanderkin fund

August 2018

$105.00

Callie Harder

July 2018

$105.00

Whitney McIntosh

We can't be there to walk with you guys on the 23rd, but we will be sending so much love and support to you all then and always! - Drew, Whitney and Wally

July 2018

$105.00

Bri Goelzer

Happy to support a great cause! So excited to meet Baby Vanderkin-Hau!

September 2018

$100.00

Elizabeth Knoblauch

September 2018

$100.00

Edith Vanderkin

July 2018

$100.00

Bonnie and Randy Bertram

September 2018

$75.00

Clinic nursing Staff

September 2018

$75.00

Katie Reinke

September 2018

$52.50

Linda Hau

You know you will always have our love and support.

June 2018

$52.50

Donna Rabe

September 2018

$50.00

Cindy and Tony Canadeo

Go team Party Like you're T21. We are there with you in spirit!

September 2018

$50.00

Patricia Bertram

September 2018

$50.00

Cheryl Hellestad

September 2018

$50.00

Breanna VandeZande

September 2018

$50.00

Rick and Peg Hau

August 2018

$50.00

Ronald Engel

August 2018

$50.00