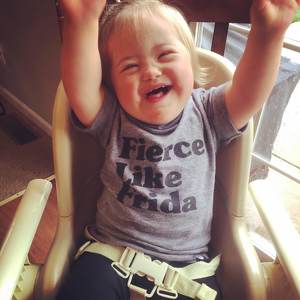 The A Team's Fundraising Page
#TeamAubreyAmanda
Thank you for visiting our fundraising page! This is our 3rd year fundraising for the Down Syndrome Association of Wisconsin's 22nd Annual Statewide Down Syndrome Awareness Walk and this day has come to mean so much to us and to our family. In the last two years our team has raised a combined total of $7409.75 for Down Syndrome awareness and support. Let's keep this gravy train rollin'! 
WHY DONATE? Like us, many of you have been personally touched by the lives of individuals with Down Syndrome. Aubrey has changed our lives for the better. There's a saying in the Down Syndrome community: We are "more ALIKE than different". This is why we raise awareness. Though Down Syndrome may be the first thing you think of when you think of Aubrey, she is so much more than her diagnosis! She adores her sister, has a funny sense of humor and has mastered the art of fake sneezing. She can make anyone smile with her singing and dancing and can charm the socks off of anyone willing to wave to her at the grocery store. 
This being said, we wouldn't be who we are without Down Syndrome in our lives! Aubrey has given us the grit to fight for equal access and opportunity. She has given us the grace to accept what is and celebrate every small milestone with big joy. She has allowed us to see more clearly that difference can be your strength, not your weakness. She has connected us with an army of people who have shown us more love than we could have ever imagined in our lives. THE A TEAM wouldn't be as strong without you! 
HOW CAN YOU HELP? Donating through this website is simple, fast and totally secure. It is also the most efficient way to support our fundraising efforts. You can make your tax-deductible donation online, or if you would prefer, you can send your contribution to the DSAW Office: 11709 W Cleveland Ave, Suite 2, West Allis, WI 53227 (Just be sure to write our team name on the memo line so that we get credit for the donation!) Whatever you can give will help - it all adds up! To sponsor us simply press Donate Now.
Please also join us on Sunday, September 23rd, at the Milwaukee County Zoo as part of The A Team. It's an incredible day of celebration with family, friends, and people who, like you, want to raise awareness, raise funds, and raise the hope of a better world for all people with Down syndrome. With your support and involvement, our goals of acceptance, inclusion and empowerment will become a reality!
To join The A Team, click Join My Team.  Reach out to Steve or I if you'd like one of us to register you instead and we'll get you signed up! 
Many thanks for your support, and PLEASE don't forget to forward this to anyone else who you think might want to donate and register to walk as part of our team. ALL are welcome! 
With Love, 
Emily, Steve, Paige and most importantly, AUBREY! 
Steve Pratt

$20.00

Amber Fortmann

$20.00

Kristin Halverson

$20.00

mike Farina

$20.00

Erika Thompson

$20.00

Thomas Leary

$20.00

Stephanie Edelis

$20.00

Shawn Smocke

$20.00

Sarah Antczak

$20.00

Kim Koscinski

$20.00

Lisa Dettlaff

$20.00

Ryan Antczak

$20.00

Linda Krieger

$20.00

Bill Krieger

$20.00

Maggie White

$20.00

Julie Draeving

$20.00

Devin White

$20.00

Rachel Rydzewski

$20.00

Steve Barker

$20.00

Mary Rydzewski

$20.00

Shane Radosevich

$20.00

Lauren Radosevich

$20.00

Polly Barker

$20.00

Sue Krueger

$20.00

Michelle Heiling

$20.00

Colleen McMillan

$20.00

Paul McMillan

$20.00

Gayle Pratt

$20.00

Scott Pratt

$20.00

Sue Thompson

$20.00

Walt Thompson

$20.00

Andrew Faude

$20.00

Gretchen Pratt

$20.00

Nick Pratt

$20.00

Melania Klemowits

$20.00

Sara Heidenreiter

$20.00

Eric Heidenreiter

$20.00

Hana Upright

$20.00

Kevin Deering

$20.00

Jennifer Deering

$20.00

Megan Olson

$20.00

Denise Mercier

$20.00

Patricia Koth

$20.00

Kenneth Koth

$20.00

Paige Pratt

$15.00

Madeline Rynes

$15.00

Abe Koscinski

$15.00

Violet Koscinski

$15.00

Nora Antczak

$15.00

Brooklyn Krueger

$15.00

Raelynn Krueger

$15.00

Brianna McMillan

$15.00

Adelynn McMillan

$15.00

Julius Pratt

$15.00

Yara Love

$15.00

Quinn Heidenreiter

$15.00

Sam Deering

$15.00

Eva Deering

$15.00

Camden Olson

$15.00

Carsten Olson

$15.00

Max Fortmann

$15.00

Heather Lemke

$12.00

Aubrey Pratt

Alice Farina

Greer Leary

Rose Leary

Molly Rynes

Aria Assad

Elizabeth White

Carson McMillan

Calvin Pratt

Kyle Heidenreiter

Cooper Olson
0
days
0
hours
0
mins
0
secs
Our Supporters
Christina Krumnow

September 2018

$52.50

Laura Huelsman

Sorry we couldn't be there for the actual walk today. Glad you had beautiful weather and congrats on smashing your fundraising goal!!

September 2018

$50.00

Nora Rynes

September 2018

Sara Olson

I support you from afar! Sending my love

September 2018

Kathleen Ann Smith

Glad to help in a small way, love you all. xoxo momma k

September 2018

$52.50

Leah Uhlenhake

September 2018

$40.00

Julie Sieg

Best of luck A Team. We love you!! The Sieg's

September 2018

$35.00

Gayle & Scott Pratt

September 2018

Jennifer Krueger

September 2018

Rachel Rydzewski

September 2018

$80.00

Mary Rydzewski

September 2018

$130.00

Justin and Brooke Lewis

September 2018

Kevin Deering

September 2018

$50.00

Mary Voss

Go Aubrey Go!!!❤️

September 2018

$30.00

Erica Ferrini

September 2018

$42.00

Alex Craven

September 2018

Casey Van Camp

September 2018

$25.00

Lynda Krieger

September 2018

$150.00

Julie Draeving

September 2018

Anonymous

September 2018
Lynda Krieger

September 2018

$150.00

Mary Rydzewski

September 2018

$130.00

Sara Heidenreiter

August 2018

$100.00

Rachel Rydzewski

September 2018

$80.00

Christina Krumnow

September 2018

$52.50

Kathleen Ann Smith

Glad to help in a small way, love you all. xoxo momma k

September 2018

$52.50

Anonymous

August 2018

$52.50

Angela Anderson

August 2018

$52.50

Kerry Barker

August 2018

$52.50

Laura Huelsman

Sorry we couldn't be there for the actual walk today. Glad you had beautiful weather and congrats on smashing your fundraising goal!!

September 2018

$50.00

Kevin Deering

September 2018

$50.00

Ellen O'Brien

August 2018

$50.00

Lynda Kemp

August 2018

$50.00

Heather Lemke

August 2018

$50.00

Erica Ferrini

September 2018

$42.00

Leah Uhlenhake

September 2018

$40.00

Julie Sieg

Best of luck A Team. We love you!! The Sieg's

September 2018

$35.00

Mary Voss

Go Aubrey Go!!!❤️

September 2018

$30.00

Paul McMillan

August 2018

$30.00

Pamela Koutecky

August 2018

$30.00