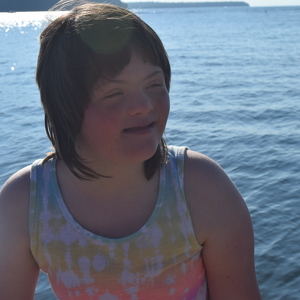 On
SUNDAY, SEPTEMBER 23, 2018
the Down Syndrome Association of WI will have its
22nd annual Awareness Walk for Down syndrome
at the Milwaukee County Zoo

Hi Everyone - Jessica Hoppe here.  Thanks for coming to check out my fundraising page.  I wanted to share with everyone what a great year I have had!
I had a great year in fourth grade, but I am excited to start 5th grade in September!  I have been working hard over the summer to keep my skills strong, so I have been working with my mom and dad reading and doing some math.  I don't mind telling you, I'm not a big fan of math.
I just turned 11 in July and for my birthday I had a party at Racine Gymnastics with my friends from school.  It is always great seeing my friends from school during the summer.  We all had lots of fun bouncing around on the trampolines and springy floor.  For my birthday I got a big three-wheeled bike (purple, my favorite) so I can now ride by myself on the bike trails behind our house with my family.  I have a bell and a basket to carry things in.
I once again got to celebrate with the Green Bay side of my family in Door County this year.  My family built a house up there so we have been making lots of trips up to work on it since last fall.  We had lots of fun getting to stay in our house with my Green Bay Grandma and my other relatives.  We all went to the beach at the Whitefish Dunes State Park and swam.  We love to swim and we try to do it every day.  I also love to get Rainbow Sherbet at Wilsons or shaved ice drinks at Malibu Moo.  We play mini golf, create art at the Hands On Art Studio, go to the outdoor theater and just have fun with my family and cousins.
The rest of the summer was jam packed with play!  I enjoy running, playing and following my brother and sister around.  We all play in our yard and have fun with our two dogs.  I love to swim so that is what I have been doing most!
I'm very excited about school starting, but also a little nervous.  My mom and dad take me to school one day during in the summer and I get to walk the halls, find my new room and to meet my new teacher.  It is really quiet then and I can concentrate a little more before all the other students show up when school begins.  I'm sure I'll have a good time learning with my friends.
Our family has participated in the Awareness walk every year since I was born!  We want to get the word out that People with Down syndrome are more LIKE everybody else than they are different.  We have feelings, talents and dreams just like everyone.  We deserve to be accepted and appreciated for who we are and what we can and do contribute to our lives and our communities.
Donating through this website is simple, fast and totally secure.  It is also the most efficient way to support our fundraising efforts.  You can make your tax-deductible donation online, or if you would prefer, you can send your contribution to the DSAW Office: 11709 W Cleveland Ave, Suite 2, West Allis, WI 53227 (Just be sure to write our team name on the memo line so that we get credit for the donation!)  Whatever you can give will help - it all adds up!  To sponsor us simply press Donate Now.
Please also join us on Sunday, September 23th, at the Milwaukee County Zoo as part of our team.  It's an incredible day of celebration with family, friends, and people who, like you, want to raise awareness, raise funds, and raise the hope of a better world for all people with Down syndrome.  With your support and involvement, our goals of acceptance, inclusion and empowerment will become a reality!
Many thanks for your support, and PLEASE don't forget to forward this to your entire address book and anyone else who you think might want to donate and register to walk as part of our team.
Sam Van Beek

$20.00

Tim Hoppe

$20.00

Evie Gill

$20.00

Sheryn Hoppe

$20.00

Justin Hoppe

$20.00

Jeni Ripley

$20.00

Madi Ripley

$20.00

Tami Van Beek

$20.00

Jessica Hoppe

$15.00

Logan Hoppe

$15.00
0
days
0
hours
0
mins
0
secs
Our Supporters
Rick Gearheart

September 2018

$50.00

Nicolet National Bank

September 2018

$1,340.00

Frank Bisotti

September 2018

$52.50

Anonymous

September 2018

M & J Morrone

September 2018

$50.00

Diane Carlson

September 2018

$52.50

Scot Madson

September 2018

$105.00

Gma Hoppe

September 2018

$50.00

Carrie Dow

September 2018

Scott Kerkman

Go get em Jesse

September 2018

gpa & gma gill

So proud of our grand-daughter jessica. love you!!!

September 2018

$52.50

Tanya and Christopher Galardi

September 2018

Richard and Barbara Colson

Have fun on your walk!

September 2018

Ken & Sue Gill

Way to go Jessie!

September 2018

Anonymous

September 2018

Karen Bencs

September 2018

Sandra Cox

August 2018

Roger Roberts

August 2018

$25.00

VIRGINIA SOLIK

August 2018

$25.00

Robert Burman

August 2018
Nicolet National Bank

September 2018

$1,340.00

Scot Madson

September 2018

$105.00

Sarah Savino

August 2018

$105.00

Frank Bisotti

September 2018

$52.50

Diane Carlson

September 2018

$52.50

gpa & gma gill

So proud of our grand-daughter jessica. love you!!!

September 2018

$52.50

Rick Gearheart

September 2018

$50.00

M & J Morrone

September 2018

$50.00

Gma Hoppe

September 2018

$50.00

April Brunette

August 2018

$26.25

Roger Roberts

August 2018

$25.00

VIRGINIA SOLIK

August 2018

$25.00