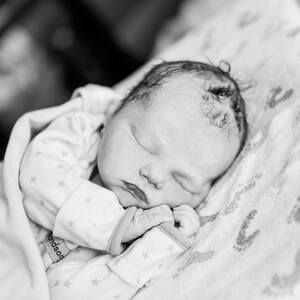 Team Blake's Fundraising Page
Go Team! We can reach our goal together!
April 14, 2014 changed our world forever. Our firstborn, Blake Steven Buckmaster was born STILL. We were devastated. He was a healthy and beautiful, full term baby – with a cord issue that could have easily been seen had they given us a late term ultrasound. Too many babies are born still. We have hope that one day there will be improvements and better care and babies with cord issues will be saved. Blake was 8 lbs and such a beautiful baby boy. My heart will never be the same but I've learned to live with the pain and find peace.
After we lost Blakey, a high school friend called my mom to tell her about Missing GRACE Foundation (MGF) and it was the best thing for our family. MGF has helped us all with this grief journey that we are on. Through the support group meetings twice a month, through the friendships we made with others on the same journey and through the support from Candy, the founder, we have healed and grown. We will forever be grateful that Missing GRACE has been there for us.
Cheri, my Mom, continues to volunteer and loves facilitating the support groups and running the office. Mom and I help to ensure all the totes and baskets get delivered to whomever needs them and assist with many other tas​ks ​​​that need to be done.
My family and many friends have supported us through this journey and we are forever grateful for them and for new friends who help in remembering our son. Don't be afraid to say his name – Blake Steven​,​ we love hearing it!
Would you please help us raise funds for the Missing GRACE Foundation by either donating, volunteering and/or just coming alongside us and registering to walk with our team? This organization does so much good and we hope you will help us continue their mission. There is no gift too small... literally every dollar matters and helps! 
Hope to see you and have you join our team as we walk on Sunday, September 25th!
Lots of Love,
Sarah, Jason, Stella, Dawson, Trevor and Baby Blake in Heaven
Here's some helpful links to get started!
Donate here.
Register to walk or run here.
Sign up to volunteer here.
Sponsor here.
Our Supporters
Dakota Bellmore

September 2022

$50.00

Ryan Ott

September 2022

$50.00

Anonymous

September 2022

Travis Paulsrud

Thinking of u guys! Love Trav and Michelle Paulsrud

September 2022

$50.00

Anonymous

September 2022

Brad and Deb Praught

September 2022

$100.00

JD's Clubs

September 2022

$50.00

Laura Hughes

Wishing we could be there Sunday! Sending love and great weather vibes your way! Xo

September 2022

$50.00

Jason Buckmaster

Love you son I think about you every day. I have your picture of you and mom holding you. It's in my UPS truck. We all miss you and will never stop love Dad.

September 2022

$50.00

Joseph Sellers

September 2022

$25.00
Albertville Lions Club

August 2022

$1,000.00

Patriot Erectors, Inc.

August 2022

$500.00

Patrick Kunz

August 2022

$500.00

Acreage Restoration

August 2022

$500.00

21st Century Bank

August 2022

$475.00

Blackstone Contractors, LLC

August 2022

$300.00

Chaun DeMars

September 2022

$250.00

4th Axis Machine and Design, Inc

August 2022

$200.00

Brad and Deb Praught

September 2022

$100.00

Roxanne Wagner

September 2022

$100.00
JH

Jillian Haller

TB

Trevor Buckmaster
0
days
0
hours
0
mins
0
secs
Messages of encouragement, hope and comfort...