1ST VIRTUAL WALK WITH HOPE
We invite you to join us as we "Take A Step to Prevent Suicide" from the safety of our own homes! This year's Walk Season looks different, but our goal remains the same:
Raise Awareness and Funds to 
Help Prevent Suicide!
We look forward to sharing our Virtual Opening Ceremony on Saturday, March 27th at 9:00AM followed by a walk through your neighborhood as we continue to navigate our new temporary reality.

MOST MILES WALKED TEAM AWARD
Walk participants are encouraged to get out, walk, and spread awareness through our Virtual Walk from March 13th - March 28th.  Download the Individual Walk Tracker Form and start logging your miles.  Team Award will be determined by the average number of miles walked per team.  All  Individual Walk Tracker Forms must be turned into Team Captain on Sunday, March 28th by 9:00 pm.  Team Captains must submit Team Tracker Form to Heather Cram (heatherc@withhopefoundtion.org) by 5:00 pm on Monday, March 29th.

Virtual Memorial Sign - $20.00        
Purchase a virtual memorial sign honoring your loved one lost to suicide to be displayed during the Opening Ceremony and on our Virtual Memorial Wall.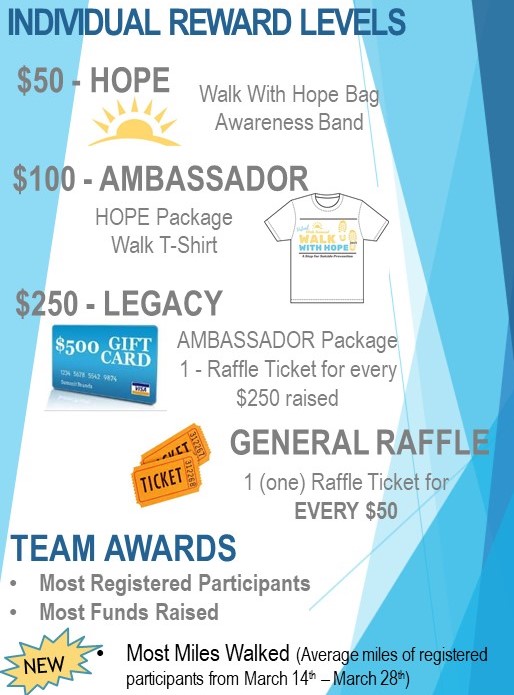 *To receive T-Shirt prior to March 13th spinsorship/donations must be received by Feb. 26th All other T-shirts will be mailed on March 30th.
**Raffle Prizes to be determined immediately following the completion of the Opening Ceremony. 
Prizes will be mailed to the winners.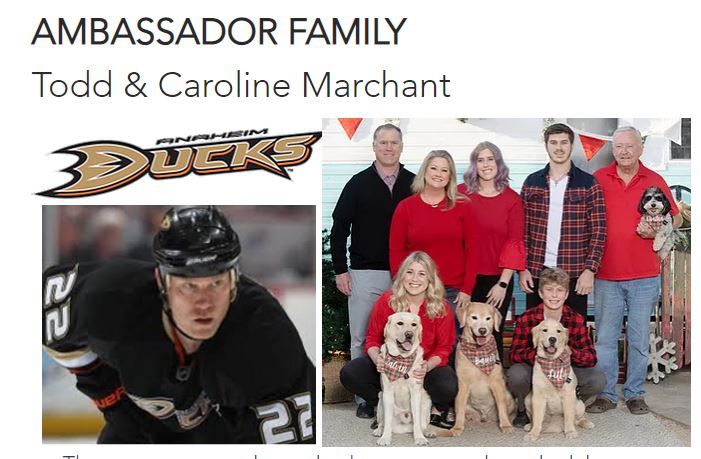 The more we can educate both young people and adults and keep the lines of communication open the more we can prevent something like this from happening again." - Todd Marchant
On November 12, 2010 we, The Marchant Family, received the heartbreaking news that close family friend, Daron Richardson, age 14, daughter of NHL Ottawa Senators   Assistant Coach, Luke Richardson and Stephanie Richardson had died by suicide.  Having so many unanswered questions and wanting to know how we could help, the  answer came one morning in January.  Stephanie sent a text and the words were few, "Please raise awareness, I need you to get the word out, that's how you can help." 
Since that very text, Caroline and I have been dedicated to suicide prevention and mental health awareness, We are happy to have With Hope, the Amber Craig Memorial   Foundation partner with the Anaheim Ducks.
Our Newest Participants
Amy Naluai

Susie Baker

Marcus Duncantel

Michael Hill

Olga A Mesa

Jason Heath

Kairi Turchen

Nick Turchen

Crystal Turchen
View All