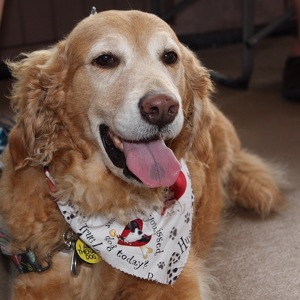 Ellen Ryan
February 14, 2020 8:00am - April 19, 2020 6:00pm
My Personal Fundraising Page
For all the animals I have shared my life with, I am doing this Walk again............
I have had so many animals in my lifetime and all of them have been so special.  You see, they were all Rescues who were without homes through no fault of their own.  I have had three Labrador Retrievers and three Golden Retrievers including my very special Carly who will be walking with me in April.  I have had seventeen cats and kittens and I still house three now, Chloe who is 17 and runs the household, Clarice (8) who is the Queen and then my little one Miss Camille AKA "Bug" who just turned one year.
I think along with all of these who have and still do bring so much joy to my household are my very special foster kittens.  I have fostered these little ones since 2003 and I am thinking roughly 800+ have passed through here waiting for their forever homes.  Some were just too little to get ready for adoption, some were very sick and some just waiting for the right person to come along and take them to their "forever" homes.
If any of you may find it in your hearts to support Carly and I this year in our efforts to raise funds for those who are still waiting for their homes, we would sincerely appreciate it.
                                       By the way, did you know
                                 "Rescue is the New Pure Breed"?
Thank you!!
0
days
0
hours
0
mins
0
secs
My Supporters
Paula Creamer

April 2020

Anonymous

Thank you for all you do for so many animals in need.

April 2020

Ellen Ryan

April 2020

$500.00

Emily Crossfield

April 2020

$50.00

Doug Hodges

April 2020

$25.00

Kevin McWilliams

April 2020

$100.00

Sheryl Owens

April 2020

$20.00

Marion Smith

Thanks for all you do, Ellen! Marion

March 2020

Connie and Robert Horneff

March 2020

$25.00

Nancy and Jerald Jessen

March 2020

$100.00
Ellen Ryan

April 2020

$500.00

Elaine Peterson

March 2020

$500.00

Elaine Peterson

March 2020

$500.00

Andrew Ryan

Have a great walk!

March 2020

$250.00

Melody Muir

March 2020

$200.00

Dawn and John Chalanick

Ellen and Carly, You are such an awesome team! Good Luck. John, Joia and Dawn Chalanick

March 2020

$125.00

Kevin McWilliams

April 2020

$100.00

Nancy and Jerald Jessen

March 2020

$100.00

Virginia Harris

March 2020

$100.00

Emily Crossfield

April 2020

$50.00