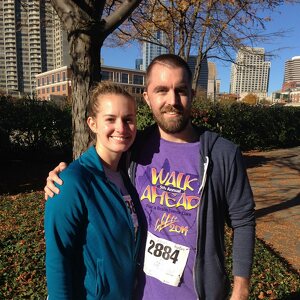 We Walk Ahead For the Love of Sean
In September 2014, we received the worst news. Just 5 weeks after our engagement, Sean was diagnosed with grade IV glioblastoa multiforme. Sean underwent resection surgery a couple weeks later, and he was able to walk on his own for our first Walk Ahead 5k (he's wearing his purple survivor shirt in the picture above). We were married in April 2015, and it was the most beautiful and happiest day of our lives. We went on with life, somehow not letting cancer rule over every decision even though it had changed everything. In September 2015, we learned that several new tumors had grown on his spine because the GBM had traveled through his spinal fluid. He was given a prognosis of about 3 months, so I brought him home and took over caring for him. He couldn't walk, he had limited function of his arms, he had been visually impaired since his surgery, but you couldn't tell any of it by the smile on his face. He was in a wheelchair for his second Walk Ahead. In the early morning hours of December 8, 2015, Sean took his last breath and was gone.
Our reason for walking is becasue we love Sean, and we want to honor him and keep his memory alive this way. Join us this year For the Love of Sean!
Our Supporters
Anonymous

Last month

$54.08

Mark & Cathy Wilcox

Last month

$25.00

Rachel Martin

Last month

$52.00

Bethany Young

Last month

$52.00

Nancy Berger-Locke

Last month

$25.00
Darling Ingredients

August 2020

$2,500.00

Nancy Cooper

August 2020

$250.00

Amy Longshore

August 2020

$150.00

Kristen Crawford

September 2020

$104.00

Stephen & Keven Crawford

August 2020

$104.00
0
days
0
hours
0
mins
0
secs
Team Badges
This team hasn't earned any badges yet.