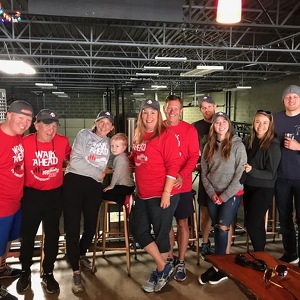 Why we Walk Ahead for a Brain Tumor Cure
Please join us as we Walk Ahead for a Brain Tumor Cure on October 18!
This year marks five years from my grueling and painful uphill climb to come back from many many recovery hurdles in 2015.  So many memories, both hard and rewarding, that I reflect on with gratitude.  I continue to be thankful to ALL my loved ones (you know who you are) for your deeply caring sacrifices, for being awesome cheerleaders, for your thoughtfulness and for your unconditional love.  My experience is something I have always considered a BLESSING. It taught me to cherish each day, to look for the good rather than the bad, and see the beauty in the world...and to thank God each day for the gift of another day. 
So, I invite you to join me in celebrating this milestone by joining our team, The Warriors, in supporting the Walk Ahead.  As with most things in 2020, it will be a bit different. But we still plan to enjoy a walk on Sunday October 18 (socially distant, of course) followed by food, fun and refreshments.  More details to follow!  If you are unable to join that day, my hope is you will consider supporting this important cause with a small donation.  
With love, Tracey
ER

Emily Riepenhoff

$40.00

SK

Spencer Kauf

$40.00

PR

Patrick Riepenhoff

$40.00

NR

Nicki Riepenhoff

$40.00

JR

James Riepenhoff

CR

Callie Riepenhoff

LR

Lucy Riepenhoff
Our Supporters
Don Riepenhoff

October 2020

GE Aviation

October 2020

Leo and Eamon McDonald

October 2020

$50.00

Ben Zelinskas

The Warriors

October 2020

$40.00

Vickie Blakey

October 2020
Terri & Galen Ginder

September 2020

$105.00

Matthew Ackermann

September 2020

$100.00

Pank Goulet

September 2020

$100.00

David George

September 2020

$100.00

Kathie Hickey

September 2020

$100.00
0
days
0
hours
0
mins
0
secs