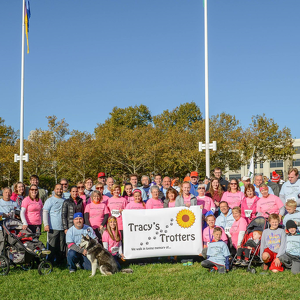 Why we Walk Ahead for a Brain Tumor Cure
This is our 9th year walking in Tracy's memory – we hope that monies raised will help find a cure!    
Tracy set the example to live life to the fullest, to follow your dreams and to love and respect one another.
Tracy J. Trotter, nee Veatch, was born June 12, 1964 in Cincinnati, Ohio. She and Tim married in 1983 and had three children – Tony, Nicholas, and Ashley.  She was a caring, genuine, loving woman who lived for her husband, her children, her family, and her friends. Although she did not wear a uniform, her support for over twenty years of her military husband, her children, and countless military families alike, served as a reminder of what it means to proudly serve our country. 
     On Thursday, July 26th, 2012 Tracy went to sleep.  After a Cat Scan and MRI revealed a brain tumor, she was air lifted to Barnes Jewish Hospital in St Louis and admitted to the Neuro ICU.  Immediately, the medical team worked to reduce the pressure in her head caused by the tumor, swelling of the brain, and excess fluid buildup.  On Friday, by the grace of God, the medical staff was able to reduce the pressure, stabilize Tracy, and she woke up.  What a blessing it was for all of us to spend some quality time with her on Friday and Saturday.  All were able to visit with her and enjoy her smile, loving touch, and sense of humor.  Saturday was indeed a good day.  Tracy ate and drank, as we all laughed, cried, and prayed together.  Early Sunday morning, Tracy suffered a stroke deep inside her brain and went into a coma.  Her condition deteriorated rapidly and within hours lost her ability to sustain life without the aid of a medical team.  On August 3rd, at 3:30 in the morning, with Tim at her side, Tracy passed away peacefully. 
     As a mother of three children and while working as a Playground Aide at Scott Elementary, Tracy happily spent most of her time in and around Mascoutah schools.  To her children, she will be remembered for the years she spent on the athletic/scholastic sidelines as their biggest fans.  In 1997 she began her career as a Playground Aide at Scott Elementary where her love for children and her unique ability to influence, teach, and protect the most innocent souls has forever left an impact on the thousands of students' lives in which she touched. She was selected to represent the district at a conference for Military Schools in Washington DC. In working with the parents and children of Scott Elementary, she served multi-year positions of PTO President, and School Fundraising Chairperson. In addition, she set-up and coordinated a recycling program to aid in support of school activities. 
     Much like her love for children, Tracy held a special place in her heart for animals.  Over the years, she provided a loving home for Bear, Honeybear, Snowbear, Pandabear and Frosty (our Team Mascot). 
Join us as we Walk Ahead for a Brain Tumor Cure on October 20!
JJ

John Jones

$40.00

AR

Amy Reddy

$40.00

JA

Joy and Tom Taulbee

$40.00

RH

Robin Hughes

$40.00

MH

MIchael Hughes

$40.00

SH

Stefanie Hawk

$40.00

CH

Chris Hawk

$40.00

CG

Carole Gunn

$40.00

MG

Michael Gunn

$40.00

AH

Ashley Heppermann

$40.00

EH

Edward Heppermann

$40.00

MV

Marla Veatch

$40.00

DV

Dave Veatch

$40.00

JH

James Heppermann
Our Supporters
TONY TROTTER

Love and miss you every day!

October 2020

$200.00

Nicholas Trotter

October 2020

$100.00

Michele Hatton

October 2020

$50.00

Laura Bauscher

October 2020

$10.00

Amy Reddy

October 2020

$100.00
TONY TROTTER

Love and miss you every day!

October 2020

$200.00

Nicholas Trotter

October 2020

$100.00

Chris Reddy

October 2020

$100.00

Becca Reddy

October 2020

$100.00

Amy Reddy

October 2020

$100.00
0
days
0
hours
0
mins
0
secs