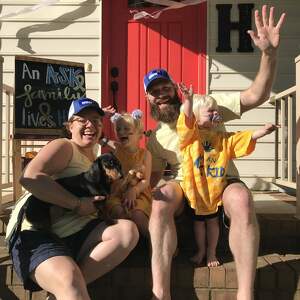 On March 6th 2019 the Harris family first heard the words "Your child has blood cancer."
Our sweet Holden was just 9 months old. He was learning to crawl, he could babble, and he was about to embark on the fight of his life. We soon learned that it wasn't just Holden that was going to have his life forever changed. I (Jess) left my job of 9 years to be a full time caregiver for Holden, Josh learned how to sleep in a hospital chair and go to work the next day as if his life was still continuing on it's original course, and Piper, Holden's sister, was shuffled between family members, friends, and daycare hardly seeing her Mom, Dad, or Brother. 
Shortly after diagnosis we were introduced to the ASK Childhood Cancer Foundation. ASK truly cares about making life better for not only the child fighting cancer, but their WHOLE family. We have attended ASK events as a family, been sponsored at Christmas, and Piper attends a special preschool just for ASK families. On a more person level, ASK provided mental health services for Josh and I as well as financial assistance when we unexpectedly dropped down to one income.
ASK has so many programs that help Cancer Families but what I love most about them is the PEOPLE that work for ASK. Everyone is so warm and friendly and goes out of their way to make you feel supported and cared about in a very scary time in your life. 
Thank you for taking the time to read this and the Harris family would love for you to join us on Walk Day or make a donation to ASK to help more families, just like ours.
0
days
0
hours
0
mins
0
secs
Haley Goodman

Holden Harris

Piper Harris
Our Supporters
Jessica Harris

May 2021

$52.00

Abigail Cooper

May 2021

$10.40

Anonymous

May 2021

Kelley Regan

May 2021

$52.00

Facebook Fundraiser 5.6

May 2021

$65.00
Birthday Facebook Fundraiser 4.27.21

April 2021

$260.00

Facebook Fundraiser 5.6

May 2021

$65.00

Jessica Harris

May 2021

$52.00

Kelley Regan

May 2021

$52.00

Richardson Matching Gift

May 2021

$52.00