Help Us Reach Our Goal in 2021!
0
days
0
hours
0
mins
0
secs
Thanks to Our 2021 #BuddyFestNW Sponsors and In-Kind Donors!
Be a 2021 #BuddyFestNW Sponsor!
Your sponsorship of #BuddyFestNW 2021 supports local families who work to create full inclusive lives for their children with Down syndrome.
Your generosity makes this meaningful day of pride possible and supports our work valuing relationships, social justice, equity, diversity, and self-determination.
For more information download our sponsor packs. If you have questions please contact Angela Frome at afrome.nwdsa.org.
2021 Team and Fundraiser Highlights
How are you celebrating #BuddyFestNW? Please share your disability pride, favorite #BuddyFestNW pictures, and what you are doing to build your teams or encourage support of the NWDSA! We would love to share on social media and via event email with our wider community!
Communicate with us at buddyfestnw@nwdsa.org!
Use these hashtags to tag your pictures and posts:
#buddyfestnw
#NWDSA
On October 2nd, please include this with your livestreams to be connected to the event: 
#BuddyFestNWLive
#BuddyFestNW 2020 was our "first virtual celebration"
Our Past Celebrations! Share your #BuddyFestNW memories and moments with us at buddyfestpix@nwdsa.org!
20th Anniversary Coverage (KGW News)
Join Us for Our Second Virtual #BuddyFestNW 2021!
Saturday, October 2, 2021
1:00 PM to 2:00 PM
This year we bring our annual celebration of acceptance and inclusion to the community in a safe and accessible way via Facebook Live and YouTube for our 2nd virtual #BuddyFestNW and 23rd annual celebration! We need your participation to make it a successful community celebration!
Mark your calendar for Saturday, October 2, 2021, like us on Facebook and YouTube, register as an individual or create a team, engage your community in team building and fundraising, consider corporate sponsorship, throw on a past #BuddyFestNW t-shirts (or make your own), and show us how you are celebrating. 
Create your #BuddyFestNW team or individual fundraising profile beginning August 12, 2021 -- Registration is FREE -- at www.buddyfestnw.org! This is NWDSA's largest fundraiser of the year to support the work we do that values self-determination, relationships, social justice, equity, and diversity!
Come enjoy some online fun and festivities with entertainment, messages from individuals with Down syndrome, videos from the community, and music to kick off Down syndrome awareness and acceptance month in October! Invite your family and friends to participate by donating and joining the live celebration to show their support. Your efforts mean so much to us, and we are beyond grateful to be celebrating another #BuddFestNW with you, and sharing Down syndrome pride.  
Your support of #BuddyFestNW can earn you a variety of incentives including an Apple Watch, Apple Airpods Pro, Apple iPad Mini, or Buddy Bear. Donations toward incentives and raffle tickets must be received by September 30, 2021. 
For more information contact Jamie Burch or Angela Frome at buddyfestnw@nwdsa.org or 503-238-0522 (English) or Maria Rangel at mrangel@nwdsa.org or 503-262-4029 (Spanish).
Show Your #BuddyFestNW Support in 2021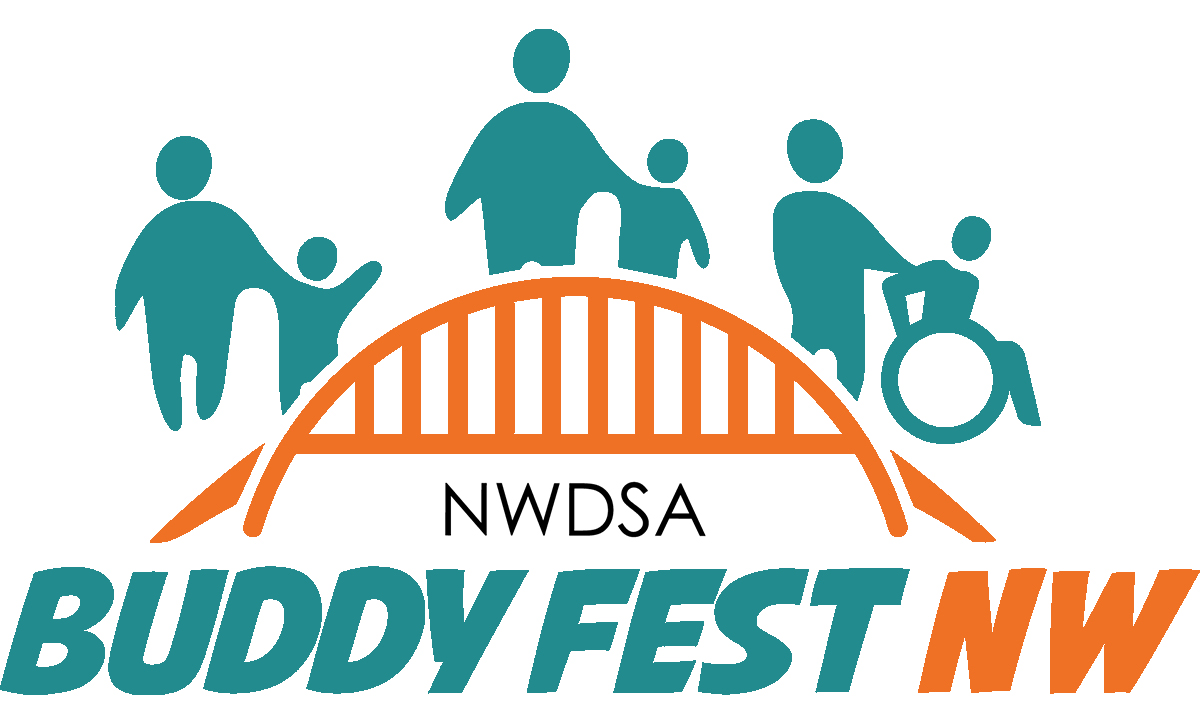 Funds raised by September 30, 2021 will count toward incentives and raffle tickets. Donations received after the October 2, 2021 celebration, throughout the month of October, will continue to support #BuddyFestNW.
#BuddyFestNW promotes acceptance and inclusion of all people with Down syndrome. The walk brings together family members, friends, professionals, community leaders and individuals with Down syndrome from Portland Metro, SW Washington, and beyond!
NWDSA's mission is to create and nurture a loving and inclusive community celebrating every individual with a disability, including Down syndrome.
*Donations for earning incentives and raffle tickets must be received by September 30, 2021.
Community support makes the work of the Northwest Down Syndrome Association possible!
Funds Raised at #BuddyFestNW help empower and support families and individuals, connect new parents to the community, increase education and promote public understanding and acceptance, increase competence of professionals, work toward full inclusion, and defend the civil rights of individuals with disabilities.  Key programs and activities, offered in English, Spanish, and now virtually,  nclude:
New Parent Outreach and Ongoing Support
Healing Hearts Booklets
Open Arms Playgroups 
Winter and Summer Socials
Medical and Genetic Outreach
Youth Leadership Group
Parent and Self-Advocacy
Reciprocal Learning Community Workshops
Community Training Opportunities
Resourcefulness Center Access and Drop-in Hours
Event Calendar, Newsletters,  and Website
Community Partnership and Education
World Down Syndrome Day Celebration
Entertainment #BuddyFestNW 2021 provided by:
Kristen Behlings is a performer in numerous arenas: acting, dancing and puppetry, to name a few! 
She loves crafting, whether it's a funny hat for Tony Starlight or 300 snowflakes to hang from the ceiling of his performance space. 
She is thrilled to be invited to emcee this year's #BuddyFestNW and can't wait to be a part of the fun!
Be Part of the 2021 #BuddyFestNW Community Keynote!
Individuals with Down syndrome and their families can be part of the community keynote during the 2021 #BuddyFestNW celebration!
Please send us a 15-30 second video sharing Down syndrome pride, what #BuddyFestNW and Down syndrome acceptance and inclusion means to you, or your love for someone with Down syndrome! 
It could be one word or a sentence, picture, or dance.  It can be simple or fancy. You can wear a #BuddyFestNW t-shirt from a previous year, something blue and yellow for Down syndrome awareness, or whatever you want.
We can't wait to see your faces, hear your voices, see your messages, and feel the love and pride you have for your life with Down syndrome! Feel free to share your name, team name, and team sign with your video and email it to buddyfestnw@nwdsa.org by September 12, 2021! 
Creating a good, usable video is easy! Record with your phone horizontal, not vertical. Make sure you are close to the phone to be heard clearly. Avoid recording where there is background noise (television, traffic, lawn mower, barking dogs, etc.). Just have fun and share your #BuddyFest spirit! 
Thank you for sharing and being an important part of our day! 
2021 Fundraising Incentives
Top fundraising teams:
Raising $3,500 or more earn an Apple Watch (SE)!
Raising $1,500-$3,499 earn Apple Air Pods Pro!
Top individual: 
Our top individual fundraiser will earn Buddy Bear!
Earn raffle tickets:
Each $100 raised by a participant earns a raffle ticket for an Apple iPad Mini (64 GB). 
Winner will be announced during #BuddyFestNW on Saturday, October 2, 2021! 
| | |
| --- | --- |
| Amount Raised | Raffle Tickets |
| $100 | 1 |
| $200 | 2 |
| $300 | 3 |
| $500 | 5 |
| $1000 | 10 |
The deadline for earning incentives and raffle tickets is September 30, 2021.
Funds raised during the month of October do not count toward incentives or raffle.   
2021 Team Building and Fundraising Ideas
1) Personalize your team page with an image and the reason why you support the #BuddyFestNW and Northwest Down Syndrome Association.
2) Let people know about the event and don't be afraid to ask for support! Start with your family and friends that are familiar with your life with Down syndrome and then think outside of the box. Who else in your community might like to support? This year is unique in that anyone who accesses Facebook and YouTube can join in on the fun of our virtual #BuddyFestNW! 
3) Share your fundraising goal, link to donate, and pictures on social media, via email, or even through the mail. Set a schedule for sharing and follow through.  You could post a daily or weekly ask with alongside something you love about your loved one with Down syndrome. 
4) Consider offering the incentive your team could earn to your top fundraiser or creating your own fun incentive (ex. if I reach my goal of $1000 dollars, I'll dye my hair orange and teal, or take a pie to the face, etc.)
5) Think of other ways you might create funds to add to your fundraising totals. Will Grandpa donate a dollar for every jumping jack you do? Will Mom give up her morning coffee for the cause? Can you challenge your cousin to see who can fundraise the most? 
2021 Mail In Donation Forms
Please use the forms below to mail in donations. Please note that donations must be received by September 30, 2021 to be counted toward incentives.
Get A #BuddyFestNW Shirt!
Day of Schedule - Saturday, October 2, 2021
1:00 PM
#BuddyFestNW Begins
facebook.com/nwdsa and youtube.com/nwdsa
1:30 PM
Walk Kick Off!
Grab your team sign and device and take a walk or roll -- or sit back and enjoy -- while our emcee entertains!
2:00 PM
#BuddyFestNW Ends
You can still support #BuddyFestNW with online giving through October 31, 2021
Biggest THANK YOU to Team Bullwinkles 2020's TOP TEAM!
The Annual Buddy Fest NW supports a variety of programs offered or supported by the Northwest Down Syndrome Association. Thank you to all of our supporters. Our work would not be possible without YOU!