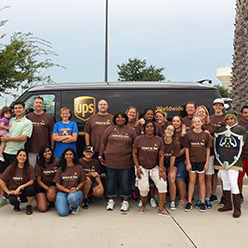 Our Team Fundraising Page
Hi family and friends!
We hope you will join Team Justin and UPS for the 2021 Fun Run! Every year we gather at the Santa Dash Fun Run to support B.I.G. Love Cancer Care in helping over 100,000 pediatric cancer kids and their families during the toughest battle they may ever face. 
We can use your support this year. Our team has a goal of over 25 team members and want to raise $15,000. Any donation large or small is greatly appreciated and will help many families during their cancer journey.
Please join our team or create your own. Each registration will get you the signature Santa Dash race shirt.
Thank you for over 13 years of support!
We love you BIG!
TG

Thomas Guerrettaz

$30.00

KR

Kellie Runkle

$30.00

SR

Sean Runkle

$30.00

JR

Justin Runkle

$30.00

BR

Billy Runkle

$30.00

JG

Joey Gedmin

$30.00

RR

Robert Ragan

$30.00
Our Supporters
Wayne Bell

December 2021

$51.00

Anonymous

November 2021

THE UPS STORE @ SHADOW CREEK - PEARLAND

The UPS Store @ Shadow Creek - Pearland is happy to help your dreams come true!

November 2021

$255.00

UPS

October 2021

$12,000.00

Robert & Mary Runkle

October 2021

$204.00
UPS

October 2021

$12,000.00

THE UPS STORE @ SHADOW CREEK - PEARLAND

The UPS Store @ Shadow Creek - Pearland is happy to help your dreams come true!

November 2021

$255.00

Robert & Mary Runkle

October 2021

$204.00

Wayne Bell

December 2021

$51.00

Kellie Runkle

October 2021

$50.00