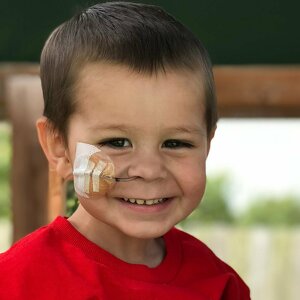 Happy Ollie Days Team Page
Oliver 'Ollie' Wells was a fighter and an avid lover of super heroes, especially Iron Man. Little did he know, he was an Iron Man.
In 2017, just before he turned 2, he was diagnosed with stage 4, high risk neuroblastoma. Ollie faced over a year of brutal treatments that included chemo, radiation, extensive surgeries, and a bone marrow transplant before passing in the summer of 2018. His body went through a lot, but his smile could always bring light in the darkness.
During Ollie's treatment, the Wells family came across Austin-based charity, B.I.G. Love Cancer Care. It was started by the Phillips family in memory of their daughter, Brooke, who lost her battle with cancer at age 5 in 2006. They serve patients and families during their hospital stays, and are a wonderful ray of sunshine through some of the hardest days imaginable.
After seeing their impact firsthand, the team at PrecisionLender decided to make B.I.G. Love Cancer Care the donation recipient for their annual BankOnPurpose conference. And since 2018, we've helped raise and contribute over $37,000.
While we weren't able to hold our in person event with BankOnPurpose in 2020 and 2021, the support for this wonderful organization has continued.  Q2 | PrecisionLender is a proud sponsor (again) of the Santa Dash Fun Run and excited to have team members participating in the event from across the country.  
We hope you'll join Happy Ollie Days in support of all the little super heroes and their families!
Our Supporters
Alex Habet

December 2021

Mirtha Perez

December 2021

$25.50

Anonymous

December 2021

Brooks Schmitt

December 2021

Anonymous

December 2021
Q2

November 2021

$10,000.00

Cindy Doyle

November 2021

$510.00

Elizabeth Cameron

December 2021

$102.00

Rollie Tillman

November 2021

$102.00

Brandi Haymore

November 2021

$102.00